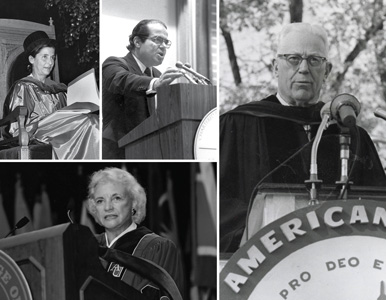 1950: United States Supreme Court Associate Justice Tom C. Clark told the Washington College of Law (WCL) Student Bar Association that young lawyers had access to a broader array of legal fields than ever before, but opportunities would only emerge with diligence and focus. "Take care of the job at hand and you will make connections that are lucrative," said the Texan, who served on the high court until 1967. "Moreover, you will be developed and broadened by your effort."
1964: Chief Justice Earl Warren held court at WCL's new John Sherman Myers Hall, delivering remarks at its dedication ceremony. During a time of domestic and international turmoil, Warren credited the Constitution and Bill of Rights for their staying power. "Throughout the periods of change that have occurred, the documents have measured up to the challenge of transition," said the 14th chief justice, who served until 1969. The transcript of his address was one of 10 items placed in a small copper time capsule and inserted into the building's cornerstone.
1976: Chief Justice Warren E. Burger received an honorary doctorate at the inauguration of AU President Joseph Sisco, but the visit to campus wasn't his first—or his last. As a US Court of Appeals judge, he delivered a WCL-sponsored talk in 1964. The Minnesotan returned one more time in 1991—five years after he retired to chair the Commission on the Bicentennial of the US Constitution—to guest lecture a legal ethics class.
1988: In a Kennedy Political Union speech, Associate Justice Antonin Scalia, the intellectual cornerstone of the court's conservative wing, noted the Constitution's durability a year after its bicentennial but said its provisions will prevail "only as long as they endure in the hearts and minds of the people." During a 45-minute question and answer session, Scalia was asked if he'd prefer another profession to sitting on the Supreme Court. His reply: "No, not really. I love what I do."
1999: A century after the inaugural class graduated from the first law school founded by women, the first female Supreme Court justice, Sandra Day O'Connor, delivered WCL's commencement address, applauding the school's "long and remarkable history." The Arizonan, who retired in 2006, stressed the importance of public service in the legal field. "A business can focus only on profits. A profession cannot," O'Connor said. "It must focus first on the community it's supposed to serve."
2016: Associate Justice Ruth Bader Ginsburg, the second woman appointed to the high court, spoke at the ribbon cutting for WCL's new Tenley Campus. "The legal profession that the graduates of this law school will join has among its practitioners, legions of men and women devoted to and who work for the common good," said Ginsburg, who also spoke at the WCL commencement in 1981. "It is lawyers of that kind that [WCL] keeps preparing: lawyers who will use their talents and education to repair flaws in our society and world."
Photos (clockwise from left): Associate Justice Ruth Bader Ginsburg, Associate Justice Antonin Scalia, Chief Justice Earl Warren, and Associate Justice Sandra Day O'Connor