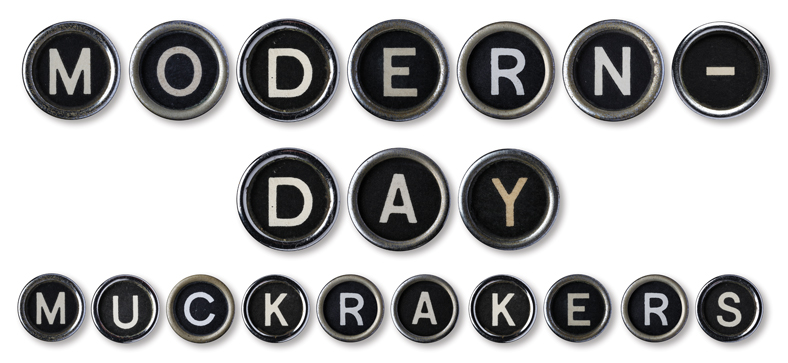 When Waynesville, Missouri's Daily Guide folded in 2018, it took a piece of the city's soul with it. In a flash, there were no more theater reviews, no community events coverage, no high school football recaps. 
Waynesville, a town of 4,800 in the heart of the Ozarks, is now down to just one set of eyes and ears—former Daily Guide scribe Darrell Todd Maurina, who live-blogs county commissioners meetings, monitors the police scanner, and posts articles to the free, online-only Pulaski County Daily News.  
"Somebody needs to pick up the slack and, at least in this community, I'm able to do that," Maurina told the Houston Herald, a weekly paper based in neighboring Texas County, Missouri, in April.  
Other news deserts—cities in which no one is covering school board meetings, scrubbing budget proposals, or scrutinizing political candidates—aren't as lucky. The loss of a local rag tugs on the heartstrings and, it turns out, the purse strings. A 2018 study by the University of Notre Dame and the University of Illinois at Chicago found that in communities where a newspaper had closed, merged, or cut its print schedule, municipal borrowing costs rose—in some cases burdening taxpayers with hundreds of thousands of dollars in additional interest over the life of a bond.  
"The economic collapse of the advertiser and subscription financial model has decimated local media, mostly newspapers. A lot of towns wake up every day realizing there's no one covering their government, empowering whistleblowers, or keeping an eye on things," says Jeffrey Rutenbeck, former dean of the School of Communication (SOC), who stepped down in June. "That sparks a kind of soul-searching, and not just within the industry. I think you have citizens who are worried about how things will turn out." 
With more papers going the way of the Daily Guide, nonprofit journalism outlets—mostly digital publications that are funded by individual donors and foundations, not ads and subscriptions—are filling the void. SOC's Investigative Reporting Workshop (IRW) is among them.   
Over the last 10 years, IRW staffers, including 160 student employees, have written 200 stories, launched about 80 investigations into topics as varied as commercial kangaroo hunting and the disappearance of Trump-branded goods, partnered with more than a dozen media outlets, and forged an affiliation with the nation's only university-based Frontline crew. Along the way, the workshop has also racked up 26 awards and $16 million in funding.  
"I'm not saying it's solved everything," says Chuck Lewis, IRW's founder and executive editor, "but these nonprofits have helped immensely." 
From low-circulation weeklies to large metro dailies, papers have been hemorrhaging jobs for decades. Between 1990 and 2016, the number of newspaper positions plummeted 60 percent from 458,000 to 183,000, according to Bureau of Labor Statistics—largely the result of print advertising revenues nosediving and digital revenues not rising fast enough to offset them. A recent Wall Street Journal report estimates that 1,800 newspapers folded from 2004 to 2018.  
As resources are cut and staff are eliminated, newsrooms are ill-equipped to meet the demands of lengthy investigative projects and watchdog work. According to a 2016 Pew Research Center study, 21 states do not have a single reporter covering their congressional delegation in Washington. 
But amid endless industry cutbacks, the country's 200 nonprofit news organizations—about half of which have sprouted up in the last decade—are providing a glimmer of hope. Like IRW, the mission of most of these outlets, which boast combined annual funding of $350 million, is to dig into investigative stories that might otherwise slip through the cracks.  
"A lot of philanthropic foundations and individuals came to see that if you didn't have information, you don't have a democracy," says Lewis, who joined SOC as a professor in 2006. "It's that direct and that blunt." 
Former Washington Post executive editor Leonard Downie Jr. playfully calls the 65-year-old Lewis the "father or grandfather" of nonprofit journalism in the US—"depending on what you want to say about his age." But Lewis's roots in the field exude the garage vibes of a tech startup. He left his job as a producer for Mike Wallace on 60 Minutes in 1989, launching the Center for Public Integrity (CPI) from the guest bedroom of his house in Reston, Virginia, with two friends. One of the first news nonprofits in the country—after the Center for Investigative Reporting and Mother Jones—CPI quickly outgrew the confines of Lewis's cul-de-sac and relocated to an office two blocks from the White House, where it expanded to more than 40 staff.  
In its first 15 years, the foundation-funded CPI produced 14 books, was threatened with 20 lawsuits (and slapped with three real ones, all dismissed), won 35 national journalism awards, and yielded more than a few 80- to 100-hour work weeks for Lewis. He was intrigued by the educational power of investigative journalism, siccing eager, young newshounds on the raw data that spawns a reporting project. But rather than uproot CPI and move it to AU, he signed a three-year contract with the university to help develop SOC's investigative journalism curriculum and launch a news nonprofit staffed mostly by students.  
"The question was: What do we do to make sure that a new generation gets [journalism], knows it, loves it, and wants to do it?" Lewis recalls. "I wanted to figure out a way where we could do investigative reporting with students so they could have bylines that would help them get jobs and delve into subjects that most [reporters] didn't have time to." 
IRW's first office—an inconspicuous space atop Chef Geoff's restaurant on New Mexico Avenue, a few blocks southeast of campus—looked more Sam Spade than Sy Hersh. And like any diligent detective agency, IRW initially grappled with which leads to follow.  
"Before Christmas of '08 until 2011, I think we were very much racing against the clock, both to figure out what we could do and what we should be doing and how to carve out a role within the university," managing editor and SOC journalist in residence Lynne Perri says. "Those years, especially, felt very startup to me." 
Building relationships with other news organizations, figuring out how to best involve students, and fine-tuning fundraising efforts took years, but IRW set the bar for impact with its first story. Wendell Cochran, former director of SOC's journalism program and senior editor at IRW, compiled data on the health of 16,000 financial institutions—8,000 banks and 8,000 credit unions—in the aftermath of the Great Recession. BankTracker, a search tool published in partnership with msnbc.com in March 2009 and updated quarterly, was an overnight hit, registering 50,000 of them in the first day alone.  
The night before the piece dropped, Lewis fretted about a threatening letter he received from the American Bankers Association, but then SOC dean Larry Kirkman assured him of IRW's independence.  
"He sent a note back literally 60 seconds later," Lewis says.  
Congratulations and good luck. 
A poster outside IRW's new office—a bright corner space on the first floor of the McKinley Building—asks of workshop alumni: Where are they now? The photos of smiling reporters include the posts at which they landed after graduation: Washington and Huffington, among others.  
Perri keeps an Excel spreadsheet of IRW's 160 undergraduate and graduate alumni—reporters, photographers, videographers, and designers—and estimates that about 90 percent have stayed in the journalism business. Their time at IRW is usually brief, with public affairs journalism master's students arriving in July and leaving the following June, but productive.  
Mandy McLaren, SOC/MA '17, returned to school after seven years as a special education teacher in New Orleans, hoping to parlay her life experiences into a deeper understanding of the sources and subjects on which she wanted to report. Her desire to touch children's lives had two potential paths: either stay in New Orleans and become a principal, or dust off the journalism instincts she developed as an undergrad and tell kids' stories.  
"The naive optimist in me decided to go with path B," McLaren says. "I hadn't touched journalism in seven years, and I knew that to get to a position where I could make an impact quickly, I needed help. I needed to build connections and I needed to find a place where I could accelerate my professional development." 
A natural starting point was the classroom. While taking an international reporting class with Lewis, McLaren pitched a story on San Diego school districts' approach to refugee students, many of whom arrive in the US unable to speak English and carrying the trauma of war. Lewis folded the story into IRW, teaming McLaren up with an education reporter at Investigative Newsource, a San Diego-based nonprofit outlet. IRW paid for her travel and gave her time to approach the story with care and nuance often lacking in education reporting. "The New Americans" was published  
in July 2017.  
"Unless you have a scandal, the day-to-day minutiae of how schools work might not be as sexy and click-worthy," says McLaren, now an education reporter for the Courier-Journal in Louisville, Kentucky. "But they're really, really important for the future of our country." 
A more personal experience inspired Caroline Stetler's first IRW piece. Stetler, SOC/MA '09, was diagnosed with papillary thyroid cancer at age 16; she made a full recovery but still wondered about the disease's causes. 
In Lewis's investigative reporting class, the former Golf Digest reporter began digging into documents and statistics, including National Cancer Institute data that revealed increased rates of thyroid cancer among women. She interviewed experts on the disease and patients who battled through it, transforming a class assignment into a seven-part IRW series with multimedia components. Her scoop was the first to ask several important questions about thyroid cancer and was the nonprofit's first-ever student-produced investigation.  
Stetler stayed at IRW for an additional fellowship year, exploring nationwide X-ray licensing and standards and contributing to a 2010 story about the nuclear energy lobby, copublished with McClatchy newspapers.  
"It was like a light went on," says Stetler, now a medical grant writer in Florida. "My confidence grew the more I was able to rely on documents. If you have the hard evidence, you have the story." 
Teaching the finer points of investigative reporting through practice can be a delicate dance. Students, even those with professional journalism backgrounds, are still learning and mistakes are inevitable. At the same time, they're working on stories that touch on serious subjects.  
By expanding its network to WAMU 88.5, the Post, and other media outlets, IRW has given students an opportunity to learn firsthand about the legwork required to build an investigative series. John Sullivan, who won a Pulitzer Prize with the Philadelphia Inquirer in 2012 for a series on violence in the city's public schools, was hired in 2013 to wear three hats: Washington Post investigative reporter, SOC investigative reporter in residence, and IRW senior editor—thus establishing a publishing pipeline between IRW and the Post. 
Each year, Sullivan invites six to eight graduate students to spend a year in the Post newsroom as part of his practicum course. Much of the first semester is spent on research—working the phones, tracking down documents and data, and negotiating down the price of public records—and the second is devoted to working with Post reporters and writing their own stories.  
Over the last two years, eight practicum students, many of them also IRW interns, worked with reporter Kimbriell Kelly, mapping more than 52,000 homicides for the Post's "Murder with Impunity" series, which was named a Pulitzer Prize finalist in April. AU students have contributed to 20 major Post investigations and produced 100 of their own bylines. Derek Hawkins, SOC/MA '16, now a full-time Post reporter, had one in the paper's 2016 Pulitzer-winning series on fatal shootings by police.  
Students sit by Sullivan's desk near the investigations team, and he treats them like colleagues. Their stories are real—appearing on the Post and IRW websites—as is their anxiety over wanting to get every last detail right for a national audience.  
"If you were to give an assignment for a student in a class to produce a story, often it's half the information. They don't really need to get that interview if they can't. They don't really need to make sure that every single point is perfect," Sullivan says. "[At the Post], you know that thing is going in the paper and you're working around people who demonstrate for you every day how careful and thoughtful they are." 
Lewis wonders more about the future of journalism over the next 10 years—and how people get their information—than that of IRW. 
There are profitable news outlets, but they're rarer and concentrated in fewer hands than in the past, complicating today's journalism ecosystem.  
More people are getting their news from nontraditional sources like Twitter and Facebook, and ignorance and disinformation are seemingly on the rise. An October 2016 ABC poll found that more than 40 percent of Americans couldn't name either vice presidential candidate. A Pew study revealed that 64 percent of American adults feel fake news causes "a great deal of confusion" about the issues of the day, and that 23 percent had shared a fake news story, either knowingly or accidentally.  
In an era of fake versus fact, IRW's mission is clear.  
"We're not cartoonish here. We're gonna do serious things for people that are literate, for God's sake. We're gonna play to people who are up-to-date on current affairs," Lewis says. "My job is to stick with quality work, to teach a new generation and be supportive and to help get these folks placed. We want them to succeed in life, and we want them to investigate the bastards—whoever they are." 
Ten years later, it's still a pursuit worth writing about.  
INVESTIGATING WITH IMPACT