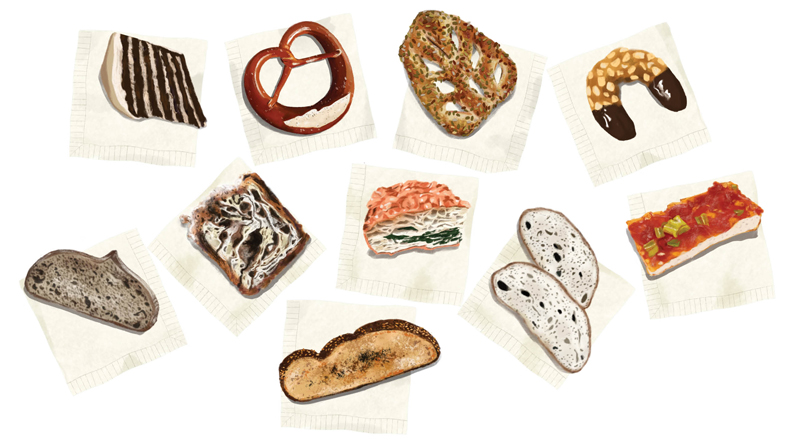 Iliana Berkowitz's career is on the rise.
After working as a bread maker in Philadelphia for five years, Berkowitz, CAS/BA '10, returned to her native Bay Area to bake her own business: As Kneaded Bakery. In November 2018, she opened her first brick and mortar location in San Leandro, California—just two blocks from her house. The artisanal bakery offers sourdough loaves, challah, baguettes, and a rotating menu of sticky buns, focaccia, and more. 
"I like being on my feet and being able to say, at the end of the day, 'I made this,'" she says. "Even though I'm doing something in large quantities, it still feels very personal." 
Berkowitz has spent more than a decade honing her craft—and make no mistake, baking is a craft. "You can fudge a little with sweets, but bread is 100 percent a science. You have to have a knowledge of fermentation and you have to do it over and over again to get it right."
Innovation is another ingredient in Berkowitz's recipe for success. She seeks out new bakeries to inspire her own menu. Feast your eyes on 10 of her favorite items:
Spinach and feta bourek: Simurgh Bakery was started by a lovely Turkish woman, Hatice Yildiz. She makes phyllo dough and puff pastry from hand, which is insane—I've never seen anyone do it. She only sells at farmers markets in the East Bay. Her spinach and feta bourek is super savory and eggy—the perfect comfort food.
Whole grain red fife: Hewn Bread in Evanston, Illinois, focuses on locally sourced heritage grains. Baking with whole grains requires a different kind of artistry and sensitivity to fermentation—to land that is very impressive. When you bite into the grassy, wheaty, red fife loaf, you taste where you are.
Pretzel: I rented space in the same commercial kitchen as Backhaus Bread—we grew our businesses together. This German bakery in San Mateo, California, makes the perfect pretzel: soft but substantial with just the right amount of salt. 
Babka: Zak the Baker is a big wholesale bakery in Miami. We stopped there in January on our way to Belize and picked up a babka: a braided sweet loaf basted with chocolate and nuts and dunked in sugar syrup. We enjoyed it all week. 
Pizza focaccia: My favorite Bay Area bakery—besides mine, of course—is Liguria. Located in San Francisco's North Beach, this no-frills bakery makes one thing: focaccia. Wrapped in butcher paper and twine, these fluffy, rich slabs are little slices of heaven. My favorite is the pizza: a thin layer of red sauce topped with green onions.  
Doberge cake: I happened upon Bakery Bar while vacationing in New Orleans with my husband last summer. I was shocked at their range of giant, elegant cakes—their dessert menu is off the chain. The doberge is seven layers of cake and six layers of pudding topped with poured fondant icing.
Chocolate-dipped almond horn: Termini Brothers is a traditional Italian patisserie, of which there are many in Philadelphia. You're waited on by someone in a nurse's outfit with a tray and you go around and select what you want. They're famous for cannoli, but I love their elegant almond horns, which have the perfect amount of chew.
Pumpkin seed fougasse: Fougasse is a bread from Provence that's cut into an interesting shape—I call it the "Monstera of bread." Clear Flour Bread in Brookline, Massachusetts, tops theirs with pumpkin seeds, which adds a nice toastiness to an already nice, chewy snack.
Olive sourdough: Tucked away on a teeny-tiny street in South Philly, Mighty Bread Company is a new, amazing bakery. The olives in this loaf mellow out the sourness of the sourdough, which is beautifully fermented. I like eating it with a cup of coffee. 
Sesame whole wheat: Bub and Grandma's is a quirky wholesale bakery in LA that makes pizza dough for Nancy Silverton's restaurants. Their sesame loaf is very savory and has a good sourdough tang to it.