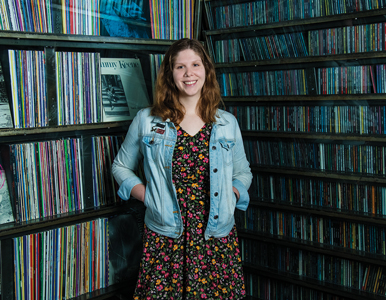 The 9:30 Club's hall of records is a dimly-lit shrine to 39 years' worth of shows that have rocked the iconic concert space.  
More than 8,000 CDs and vinyl records crowd the hall's shelves, commemorating an ever-growing list of gigs that includes Tiny Desk Unit's grand opening show in May 1980 and Smashing Pumpkins' back-to-back sellouts in January 1996 to break in 9:30's new venue on V Street in Northwest DC.  
Madelyn Dutt ensures the club's music library will continue to grow. As an associate marketing director with IMP, she promotes shows at 9:30, the Lincoln Theatre, and the Anthem on the DC waterfront. That means coordinating concert publicity for acts from Parachute to Peter Frampton—often simultaneously.  
"Between shows that are on sale and shows that are about to be on sale, we could be dealing with 100 at once," Dutt says.  
But it's work Dutt signed up for—during her senior year at AU, she emailed iwannabeanintern@930.com—and it proves gratifying when the house lights go down and a capacity crowd of 1,200 roars. 
"I love just looking around and going, 'We did this,'" Dutt says. "Obviously the artist is why people are there . . . but we let them know about it. Watching the crowd and seeing them enjoy it, that's what keeps me going."