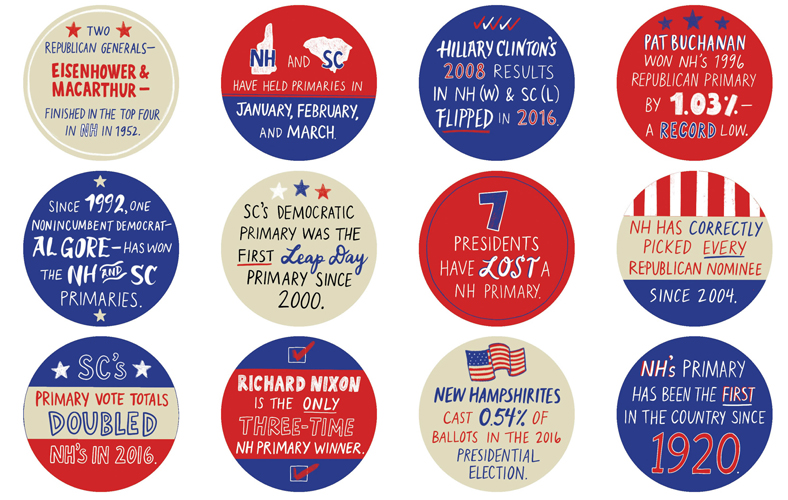 For five days in February, the only thing as packed as New Hampshire's high school gyms was Karissa Waddick's itinerary. 
As the results of the Granite State's Democratic primary trickled in on February 11—with Sen. Bernie Sanders (I-VT) eking out a win over former South Bend Mayor Pete Buttigieg—Waddick, SOC-SPA/BA '20, raced from Sen. Elizabeth Warren's (D-MA) speech in Manchester to Concord, where she arrived just in time to catch Sen. Amy Klobuchar's (D-MN).
She covered stump speeches and debate watch parties and interviewed documentarian Michael Moore, filling her camera and recorder with the sights and sounds of 2020's first primary. "I was surprised at how willing voters were to speak with us and how open they were about who they supported and why," she says.
The events capped off a nonstop week of reporting for Waddick and 23 other students enrolled in Presidential Primaries, a course offered every four years by the School of Communication and the School of Public Affairs. Now in its fourth cycle, the class featured a new twist this year: South Carolina.
"We went back and forth between Iowa and South Carolina," says SOC professor Lynne Perri. "But we agreed that the diversity of South Carolina made it [a good fit]" for the 19 students who covered the Palmetto State's February 29 primary.
"No matter where they go," Perri says, "we want students to leave with a true understanding of how elections work."