Innovative Management Is Needed to Reduce Violations, Problems in Nursing Homes, Says New Study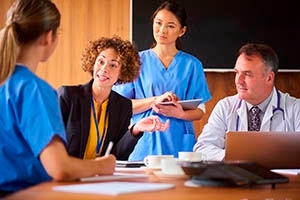 Health-care violations in nursing homes across the United States can be reduced and patient outcomes can be significantly improved through innovative, forward-looking management strategies, according to a study published today in the Journal of Public Administration Research and Theory.
The authors, including Anna Amirkhanyan, Associate Professor at American University School of Public Affairs, and Distinguished Visiting Scholar Ken Meier, studied the effect of management strategies and other factors on different dimensions and measures of performance in public, nonprofit, and for-profit nursing homes in the U.S. While the researchers found significant differences in overall performance among public, private, and for-profit facilities, all of them can benefit from better management strategies. 
"One of the most important findings that has emerged in the course of our investigation is that, across all sectors, nursing home managers who employed more innovative management practices, achieved much better success rates and had far fewer health violations," said Anna Amirkhanyan.
Innovation in the nursing home environment includes a manager's ability to adopt new ideas, care practices, technologies, and service opportunities. In addition to fewer health violations and improved care, the researchers found that innovative practices may lead to higher revenue. While Medicaid-eligible patients are supported by government subsidies, facilities also compete for non-Medicaid clients, whose cost-to-reimbursement ratios are higher and more attractive to health insurance providers. The researchers found that innovation can provide institutions with a competitive edge that reduces the number of Medicaid-supported clients and results in a self-sustained cycle of more affluent clients, higher revenues, and better patient outcomes.
"Cutting-edge nursing homes attract healthier and more affluent clients," said Meier. "This means they see higher revenue, which leads to higher quality of care, and a better reputation."
The researchers also found that smaller public and nonprofit nursing homes that use innovative strategies have fewer violations and higher quality ratings than larger for-profit homes. Nonprofit homes also tend to serve fewer Medicaid clients and are more effective at personalized care.
"The down side is that lower income patients are less likely to benefit from innovative facilities," said Amirkhanyan. Amirkhanyan's and Meier's study co-authors are Laurence O'Toole, professor, The University of Georgia; Mueen Dakhew, program coordinator, Brazos County Health Department; and Shawn Janzen.
American University is a leader in global education, enrolling a diverse student body from throughout the United States and nearly 130 countries. Located in Washington, D.C., the university provides opportunities for academic excellence, public service, and internships in the nation's capital and around the world.