American University Senior Craig Stevens Named a 2018 Marshall Scholar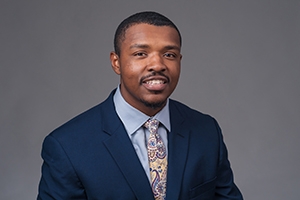 American University student Craig Stevens has been named a recipient of the Marshall Scholarship to pursue graduate studies in the United Kingdom. Just 43 Marshall Scholars were selected this year to receive this prestigious award from the UK Government. Stevens is now among an even more elite few as he is the third Marshall Scholarship recipient in AU's history.
Stevens, a native of Virginia Beach, Virginia, maintains a 3.96 grade point average. He will graduate on Dec. 17, 2017 with a bachelor's degree in anthropology from AU's College of Arts and Sciences. Stevens' academic interests encompass anthropological research in any aspect of ancient or modern history, evolution and ethnographic studies. His methodological interests are founded primarily in archaeology. His desire is to explore a wide range of topics such as human migration, the Black/African Diaspora, trade networks, territoriality and movements of resistance to colonialism and slavery.
"We are honored to have Craig Stevens representing American University and the United States as a Marshall Scholar," said AU President Sylvia Mathews Burwell. "Craig has distinguished himself during his time at AU both in the classroom and as a hands-on researcher in the field, and we know he will continue to build his impressive record of accomplishment during his graduate studies at University College London," she said.  
"This scholarship puts me a step closer to the realization of my career dreams," says Stevens. "I'm interested in deepening our understanding of the cultural connections between West Africa and African Diasporic communities in the Americas. The training that I will receive at these incredible UK institutions will equip me with the skills to make substantial improvements to the portrayals of Black people in history and nuance the way in which we discuss Black identity," Stevens said.
He also wants to engage a broader public with new narratives about the lives of African descendants. Stevens came to AU to work with Professor Chapurukha Kusimba, a Kenyan archaeologist with expertise on the African diaspora in North America, and he is now one of our most outstanding seniors.
Two archaeological research experiences complement his course work. The first was carried out at a Maryland plantation site where Josiah Henson, the founder of a self-sufficient Black community, was enslaved. The second, at Ohio State University, focused on analyzing hearth remains to determine the agricultural practices of Iron Age inhabitants in present-day Oman. This term, Stevens is gaining further experience as an archaeological technician at AECOM, a civil engineering firm that employs archaeologists to assess construction sites prior to breaking ground.
As a Marshall Scholar, Stevens will master essentials of a field that few undergraduates study. His courses will teach advanced techniques for analyzing ceramics and conducting mixed-methods research relevant to archaeological practice. They also will improve his understanding of theoretical frameworks for diaspora studies applicable to material culture. He has spoken at length with his preferred mentor at University College London about his interests. Professor Kevin MacDonald is an ideal guide given his expertise on diaspora archaeology, field experience in Africa and in North America, and ties to the U.S. National Park Service. 
The Marshall Scholarship, established by an Act of Parliament in 1953, is one of the highest academic honors bestowed on American post-baccalaureate students. More than 900 students from across the U.S. apply annually. The program, which was created in gratitude for U.S. assistance to the United Kingdom during World War II under the Marshall Plan, provides funding for up to three years of graduate study at any United Kingdom university in any field.
For more information, please contact Kelly L. Alexander, American University Communications, 202-885-5952 or kellya@american.edu.