Research
AU Professor's Phone Booth Captures DC Stories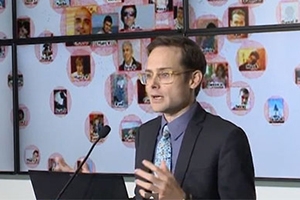 When the Smithsonian's Anacostia Community Museum opens its latest exhibit, "A Right to the City" on April 21, an American University professor will have a hand in helping District residents tell their stories to visitors.

Benjamin Stokes, a professor in the School of Communication, created the exhibit's "community phone booth," which allows callers to hear voices from the exhibit. "A Right to the City" examines the changes in Adams Morgan, Anacostia, Brookland, Chinatown, Shaw and Southwest.
From the Smithsonian's press release:
"A storytelling 'telephone hotline,' made possible by a collaboration with Benjamin Stokes of American University, allows visitors to call in, both on and offsite, and hear excerpts from some of the nearly 200 oral-history interviews recorded as part of the research for the exhibition. The hotline will also allow callers to record and share their own neighborhood stories. It will accept calls from anywhere at anytime and will launch in conjunction with the opening of the exhibition."
The community phone booth captures residents' views on displacement, gentrification and other issues impacting neighborhoods.

"Callers will hear the voices of DC residents who fought for their neighborhoods and saw their neighborhoods change -- drawing on oral histories gathered by the Smithsonian," Stokes said. "Such voices are especially important right now, as DC faces intense pressures of gentrification and change."
Stokes also notes that new stories will be added to the exhibit over time.

"We built this as a participatory system, so over the next two years the hotline will gather new voices and evolve, including to distribute multimedia from the exhibit. Rather than focus on the internet, we believe an audio system for phones may have special uses to circulate stories that matter for DC neighborhoods. The hotline comes out of my research on neighborhood storytelling systems."
The exhibit runs through April 20, 2020.