Arts
Contemporary Abstraction on Display at AU Museum An eclectic mix of painting, sculpture, photography, mixed media, and fashion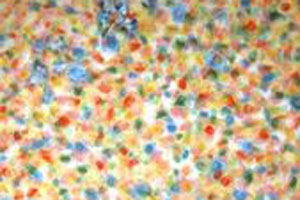 Winter exhibits at the American University Museum at the Katzen Arts Center are open Jan. 28, 2017 through March 12, 2017.
Howard Mehring, a native Washingtonian, became a leading figure in the loosely defined Washington Color School movement, a form of Abstraction particular to D.C. Mehring / Wellspring: The Early Color Field Paintings of Howard Mehring is a survey sample of his 'Color Field' paintings created between 1957 and 1963. In the mid-1960s, Mehring changed his abstract style to one of geometric patterns using bolder colors under the influence of critic Clement Greenberg, before his premature death at 47.
Art historian E. A. Carmean Jr., wrote the catalogue essay for Mehring / Wellspring. During his tenure as curator of 20th century art at the National Gallery of Art, he organized the exhibition of the Color Field paintings of Morris Louis. Carmean Jr. was also the curator of two retrospectives of New York Color Field artists, one of the pioneer Helen Frankenthaler for the Museum of Modern Art in New York and a second, of Jules Olitski, shown at the American University Museum in 2012. The author of over 200 essays, books and catalogues, published in seven languages, a selection of his writings and sermons is currently in preparation. 
Julie Wolfe, an alumna of The University of Texas, Austin, uses her paintings, photography, sound and video production, works on paper, and installations to explore existentialism inspired by Michelangelo Pistoletto's concept of a third paradise. Wolfe's Quest for a Third Paradise seeks to showcase the relationship between the natural world and human nature. This exhibition was curated by Claire D'Alba.

In the Alper Initiative for Washington Art, Washington native Joe Cameron's photographs are on display. Cameron focuses on purity within black and white photography. His exhibition Touching Air works to highlight his excellence in incorporating in his photographs the poeticism in drawing and design. He captures this connection through the camera and allows it to create a visual quest for audiences.
New Ruins is an exhibition displaying the work of six, New York-based contemporary artists: N. Dash, Jessica Dickinson, Donald Moffett, Sam Moyer, Nathlie Provosty, and Brie Ruais. The artists make use of specific temporal, material, and tactile detail that challenge the traditional painter's mark while also modifying time and presence perception. The exhibition was curated by Danielle Mysliwiec, assistant professor of art, American University, and Natalie Campbell.
Mike Shaffer: Towers and Monuments showcases an array of paintings and sculptures by Maryland artist Mike Shaffer. Shaffer combines styles of minimalism, pop, and conceptual art to emphasize how the memorials and monuments in Washington, D.C. are inherently material, but portray non-material matter -- inventions, glory, prestige, honor. He explains that his "work is about ideas rather than things," but he uses "things to explain" his ideas.
On view through Feb. 12
COCO CHANEL: A NEW PORTRAIT BY MARION PIKE, PARIS 1967-71
Organized by the Washington Winter Show, this exhibition explores the profound friendship between California artist Marion Pike and legendary designer Coco Chanel, featuring five large-scale portraits of Chanel, painted by Pike, and several haute couture pieces styled by Chanel for Marion and her daughter, Jeffie Pike Durham, who generously loaned all of the pieces for the collection. Curated by Amy de la Haye, London College of Fashion, this collection makes its North American debut. This exhibition will be on display in the Katzen Kreeger Lobby through February 12, 2017.