Arts
Participatory Sculpture, Contemporary Cuban, A Teacher's Legacy, Myths and Time at the AU Museum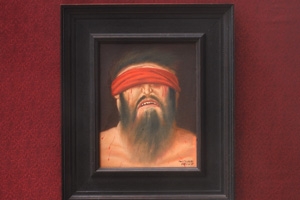 Spring exhibits at the American University Museum at the Katzen Arts Center open April 1.

ESCAPE: Foon Sham, April 1 – August 13
Gallery Talk: 2 to 3 p.m., APRIL 23


Escape showcases Foon Sham's mastery of wood sculpture. To be within one of his vessel sculptures is to experience the palpable space of a woodland creature's habitat, or the place of concealment. At the American University Museum, Sham has built one horizontal tunnel measuring 62 feet long and one vertical tunnel towering 36 feet high. Escape is one of a series of participatory sculptures, begun in the 1990s, meant to be experienced with all the body's senses and to resonate socially. Dualism, as in the Taoist yin/yang dichotomy, is a consistent theme in Sham's work. Escape may be possible spiritually, if not physically.


The title 'Escape' signals that a political interpretation is valid. The outdoor sculpture's craggy ridgeline echoes the mountain ranges of the American West and traces the line of the U.S.-Mexican border. Without being politically prescriptive, the title and tunnel imagery evoke the hotly contested issues of immigration and the plight of the refugee that figured so heavily in both American and European recent elections. The journey for the viewer may be short and sensory, or may be evocative of bigger issues like the death-defying travails undertaken by Central American and Syrian refugees. Curated by Laura Roulet.

Green Machine: The Art of Carlos Luna, April 1 – May 28
Cuban artist Carlos Luna's exhibit at AU Museum features more than 65 works, with some created in new media the artist has been experimenting with during the past four years, including Jacquard tapestries, works on metal sheets with patina and aluminum leaf, and layers of natural materials rubbed into strong, thick, dense, smooth and un-sized French paper. Painting, sculpture and installation become one to portray Cuban stories and fables by one of Cuba's leading contemporary artists.


Summerford Legacy, Alper Initiative for Washington Art, April 1 – May 28
Gallery Talk: Salon-style "Free Parking" series, 5:30 to 7 p.m., APRIL 27, RSVP: www.tinyurl.com/AlperTickets


Ben L. Summerford (1924-2015) taught at American University's Department of Art from 1951-1987. All 14 of the artists in Summerford Legacy studied under Professor Summerford and took different aspects of his teaching to heart. Some stayed close to their artistic roots in AU's Department of Art, and some used those roots to support far-flung but personal explorations. All of the artists exhibit the artistic integrity embodied by their teacher, and approach their art as an act of discovery.

Sharon Wolpoff and Tammra Sigler: Geometry and Other Myths, April 1 – May 28
Gallery Talk: 5 to 6 p.m., APRIL 1


At first glance, the art of Sharon Wolpoff has little in common with the art of Tammra Sigler. Wolpoff is a figurative painter of carefully composed scenes from life, suffused with light and heightened color. Sigler is an expressionist artist who is known for improvisation and bravura brushwork. However, similarities and contrasts emerge in their work as they engage with three different paths to knowledge of the world: geometry, psychology, and spirituality. Sigler's work starts with geometry as a foundation and moves away from it towards the emotional, while Wolpoff's work begins with an emotional response and moves towards the underlying geometry or structure. Both artists have beautifully structured artwork, and their uses of structure have psychological and spiritual functions, as well.

Time Stands Still: Elzbieta Sikorska, April 1 – May 28
Gallery Talk: 2 to 3 p.m., APRIL 8


No matter how we reflect on time, it is a contemplative and complicated subject. Time affects everything: people, animals, woodlands, earth, stone, and artifacts. These are the elements that Elzbieta Sikorska uses in her large scale, multimedia drawings, conceived as loose pictorial narratives whose common thread is the continuity of being. Rather than offering definitive conclusions, these works are intended to lead us into a deeper and more intimate consideration of our own relationship to time – our constant companion. Curated by Aneta Georgievska-Shine.

Master's of Fine Arts Student Exhibitions, April 1 – April 19 AND April 29 – May 28 Gallery Talk/Opening Reception: 5 to 8 p.m., APRIL 29
AU's Department of Art presents the work of current first- and second-year MFA candidates in a two-part exhibition. The multidisciplinary Studio Art program showcases an exciting range of emerging artist's work in painting, sculpture, collage and material studies, photography, and new media.

In the Kreeger Lobby: Frida Larios: Maya Alphabet of Modern Times, April 1 – May 28
Frida Larios's logo-graphic designs are intended to re-invent the ancient Maya alphabet for modern use. The designs borrow directly from the logo-graphic language of the ancestral Maya scribes, but speak to and for the Indigenous Maya of today.

The American University Museum participates in STATIONS OF THE CROSS through APRIL 16, with a painting by Colombian figurative artist and sculptor Fernando Botero from his Abu Ghraib series. This unique exhibition—held in 14 religious and secular locations across Washington, D.C.—will use works of art to tell the story of the Passion of Christ in a new way for people of varying faiths. More information available at artstations.org.