Arts
Representation to Performance: American University Museum Summer Shows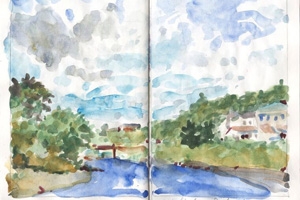 Summer shows at the American University Museum at the Katzen Arts Center are open June 17 through Aug. 13.

STATES OF MIND: PHOTOGRAPHS OF CUBA AND NORTH KOREA BY CARL DE KEYZER
Panel Discussion: June 17, 5-6 pm
An exhibition of prints by Belgian photographer Carl De Keyzer of scenes in North Korea and Cuba consists of 60 large-scale photos on display on the museum's third floor. The Cuba photos, grouped together under the series title, Cuba, la lucha, were taken shortly after former President Barack Obama's 2014 speech inviting the relaxation of the Communist island's 56-year embargo.
De Keyzer's North Korean prints, on display in a museum for the first time, also were shot in 2015. The British-run Koryo Group, which organizes travel tours in North Korea, arranged for De Keyzer to spend more than 40 nights in North Korea, during which time he took pictures for Koryo's travel website and his own portfolio. Alongside local Korean guides, De Keyzer, a globally renowned photographer with Magnum Photos, an international photographic collective, traveled to every single one of the country's provinces. No other photographer has had this kind of access in North Korea, said Jack Rasmussen, curator of AU Museum. 
Part of American University Museum's mission is to showcase art with political and social relevance. Last summer, the museum exhibited Contemporary North Korean Art: The Evolution of Socialist Realism, the first exhibit of its kind in the United States. The exhibit explored North Korean artistic experimentation, and the nation's particular evolution of Socialist Realism within its own culturally homogeneous context, through Chosonhwa, the country's predominant painting medium.
VAL LEWTON: FROM HOLLYWOOD TO BREEZEWOOD
Gallery Talk: July 13, 5:30-6:30pm 
A retrospective exhibition of paintings by Val Lewton traces work from the artist's origins in Hollywood, Calif., through his career as an exhibition designer for the Smithsonian Institution in D.C. Lewton's paintings use artifacts of traffic and everyday objects and scenes—cars, trucks, roads, semi-demolished buildings, suburban neighborhoods, and paint cans—to create improbably beautiful and personal compositions. 
Lewton's father was famed Hollywood movie producer Val Lewton, who created such 1940s horror classics including "Cat People," "Curse of the Cat People," and "I Walked With a Zombie." Aspects of Lewton's paintings may have been informed by his early experience with Hollywood sets and lighting, and later with his career in exhibition design.
FREDERIC KELLOGG: WORKS IN OIL AND WATERCOLOR
Painting Demonstration: June 24, 2-4 pm
As a young man, Frederic Kellogg wanted to be an artist, but the spirit of social activism in the 1960s drew him to the law. In 1973 he moved from Boston to D.C. to serve as Assistant U.S. Attorney under Elliot L. Richardson right before Richard Nixon's infamous Saturday Night Massacre. Kellogg resigned along with Richardson. He became admired locally for representing artists including Yuri Schwebler and Carroll Sockwell, and Nesta Dorrance, owner of the Jefferson Place Gallery. Kellogg became Legal Counsel to the National Endowment for the Arts in 1986, and by 1992 he was a full-time painter. 
E.A. Carmean Jr., former curator of 20th-century art at Washington's National Gallery of Art, describes in the exhibition catalog that Kellogg's art lies within the great American tradition of Realism, but his style fluctuates between the more precise work of Andrew Wyeth and Richard Estes, and the looser approach of Fairfield Porter. 
ALPER INITIATIVE FOR WASHINGTON ART: PERFORMING THE BORDER
Salon-style Discussion: July 27, 5:30-7pm
"Performing the Border" features art by young regional artists, including two American University alumni, who test the arbitrary categories dividing art and performance. The four artists and one collaborative group selected by curator Megan Rook-Koepsel (artists and group are Clay Dunklin, Amy Lin, Susana Raab, Jenny Wu, and Street Light Circus) explore boundary formation and dissolution. Included are works of mixed-media, photography, performance, installation and video art. Artists in Street Light Circus will perform during the opening reception for the summer shows, on June 17 from 6-9 pm.
ON VIEW THROUGH AUGUST 13: FOON SHAM: ESCAPE
To be within one of Foon Sham's wood sculptures is to experience the palpable space of a woodland creature's habitat, or the place of concealment. At the American University Museum, Sham has built one horizontal tunnel measuring 62 feet long and one vertical tunnel towering 36 feet high.