Government & Politics
Low Primary Turnout Brings Uncertainty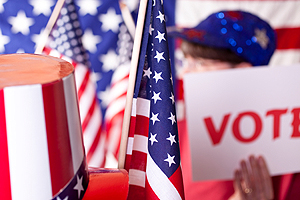 For the first time in 80 years, Republican turnout in statewide mid-term primaries (for U.S. Senate and governor) exceeded Democratic turnout in a primary turnout season that produced the second lowest turnout ever.

These were among the highlights of a report on mid-term statewide primary turnout based on final and official results for all but one of the 46 states* which held primaries in 2010 released today by American University's Center for the Study of the American Electorate.

A set of charts to provide the numerical basis of the statistical conclusions in this report are available in a PDF download. The download includes a chart providing the denominator of age-eligible citizens the Center will be using for general election turnout and why that denominator is being used.
 
Among the findings in the report:

In the 42 states which held statewide elections in both political parties, 33,824,108 voted, an average turnout of 17.8 percent of age-eligible citizens. This is lower than any mid-term primary season except 2006 when 16.1 percent of eligibles voted. Turnout was up in 29 states, down in 13. Turnout reached record lows in six states—Alabama, Hawaii, Massachusetts, North Carolina, Rhode Island and West Virginia.

Democratic average turnout in the 42 states which held Democratic statewide primaries was 15,482,969 or 8.2 percent of the eligible electorate, a new low turnout record eclipsing the 9.0 percent who voted in 2006. This continues a trend in which Democratic primary turnout has fallen in almost every year since the 1950s. Turnout for Democratic statewide candidates was up in 12 states and down in 30.  

Turnout for Democratic statewide candidates was at record low levels in 13 states (Alabama, Florida, Georgia, Idaho, Maryland, Massachusetts, Missouri, Nebraska, New Mexico, North Carolina, Tennessee, West Virginia and Wyoming), at a record high in only one, Vermont

Republican average statewide primary turnout in the 46 states which held GOP primaries was 19,277,543 or 9.8 percent of eligibles, the highest since 1974, when 10.4 percent of eligibles cast their ballots.

GOP turnout increased in 39 states and was down in only seven. GOP turnout reached record levels in 12 states (Alabama, Arizona, Delaware, Florida, Georgia, Indiana, Kentucky, Michigan, Missouri, Oklahoma, South Carolina Tennessee and Texas) and reached record lows in only two—Minnesota and West Virginia.

The 3.8 million vote advantage for the GOP was the first time that the Republican statewide primary turnout exceeded Democratic turnout since 1930 when the party enjoyed a 22 - 11 percent turnout advantage.
Turnout for winning Tea Party endorsed candidates averaged only six percent of the eligible electorate, indicating that in least some states those candidates might reduce the chances for Republicans to take both Houses of Congress.

"Normally in an election held during a recession, turnout goes up and the party in power in the White House loses seats in Congress, and among the states governors and legislatures," said Curtis Gans, the Center's director. "While it is certain that the Democrats stand to lose on all of those levels, the degree of loss and the level of turnout is very much in question at this time."

Gans cited a number of groups whose turnout in the general election will surely be reduced from the 2008 election and likely from 2006:

"The so-called Millennial generation, largely college educated and mostly college resident, who voted heavily in 2008 because of their hostility to American involvement in Iraq and Afghanistan, the excesses at Guantanamo and Abu Ghraib, hope that President Obama would both bring a new politics to Washington and remedy for the nation's economic ills.


African-Americans who voted in record numbers and percentages in 2008 but whose ardor has substantially cooled and for whom fear may not prove as motivating as hope.
Latinos, who had hoped for some progress on humane immigration reform, and who in polls show the lowest inclination to vote of any demographic sub-group.
Moderate Republicans who, in states where Tea Party candidates won, may, like former Rep. Michael Castle, either vote Democratic or eschew voting for any candidate.
Independents who are tilting to the GOP, but who are also increasingly hostile to either major party.

"The Tea Party may prove a double-edged sword for the GOP. Those who identify themselves as part of the Tea Party surely provided some of the energy that propelled Republican turnout upward," Gans said. "But their position at the edge of the political spectrum and the relatively low turnout for most of their statewide candidates may make it difficult for the GOP to garner sufficient votes in some states to overcome potential Tea Party aversion."

"While because of the length and depth of the recession, the GOP has an enormous advantage going into this election, no one should read any permanence to the partisan result. The low overall primary turnout speaks to a disaffected electorate and the sad likelihood is that there will be two ensuing years of legislative gridlock and, perhaps, a 2012 election based on assessing blame," Gans said.
*Figures from New York are almost final and unofficial, as it is the only state which has not reported its final results.