American University Shares Bold Steps With Annual Report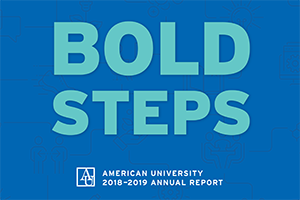 With the theme "Bold Steps," American University's 2018-2019 annual report captures the momentum across the university as it embarks on its new strategic plan, Changemakers for a Changing World.
The report is organized around the strategic plan's three strategic themes—scholarship, learning, and community—and their anticipated result, changemakers. "Change with impact is foundation of American University. The 2018-2019 annual report illustrates the beginnings of change reflected in AU's new strategic plan and celebrates AU changemakers involved in scholarship, learning, community partnerships, and service to the world through their work," said Matt Bennett, vice president and chief communications officer at American University.
Featured are:
"AU At-a-Glance," which tells our story through an overview of the university;
the new science building with a sampling of the research that will find its home there;
the new Provost Dan Myers and his top five priorities for academic excellence;
the new generalist digital technology credential for undergraduate students; and
the diversity of the visionaries who spoke at May 2019 Commencement including Stacey Abrams whose speech landed on Time's list of "Best Commencement Speeches of 2019."