On Campus
AU Designated a Tree Campus USA University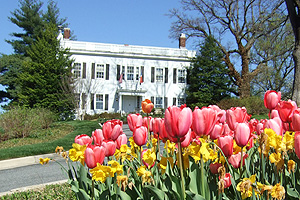 American University has been designated a 2009 Tree Campus USA University by the Arbor Day Foundation for its dedication to campus forestry management and environmental stewardship. AU is the first college or university in Washington, D.C., to earn this honor.
"We have made a lot of effort the past few years to make our campus ground more attractive while implementing sustainability practices," said Mark Feist, director of AU's facilities management and grounds. "We are proud to be the area's first campus to join this valuable program."
The designation was announced during the university's 16th annual Campus Beautification Day, held April 16. The event brings faculty and staff out of their cubicles and the students out of their residence halls for a community-wide effort to enhance the university's Arboretum and Public Gardens—the only university arboretum in Washington, D.C.
During the morning the community planted 5,100 perennials and ground covers laid 1,000 square yards of sod, planted 58 trees, spread 4,500 bags of mulch, and planted 250 shrubs.
In addition, three Yoshino Cherry trees, a gift from the National Cherry Blossom Festival were planted near the front entrance of the new Kogod School of Business addition.
To earn the Tree Campus USA distinction, the university had to meet five core standards of tree care and community engagement. They include the creation of a campus tree advisory committee, evidence of a campus tree-care plan, verification of dedicated annual expenditures on the campus tree-care plan, involvement in an Arbor Day observance, and the institution of a service-learning project to engage the student body.
Facilities Management's grounds staff and members of the Campus Beautification Day project team submitted the application. With many of the core standards already met by the university's arboretum status, the most significant addition was the formation of a tree advisory committee.
AU's new campus tree advisory committee includes students the student environmental club EcoSense, a faculty member from the environmental science department, and arboretum staff.
"The Tree Campus USA program will have a long-lasting impact at AU as it engages college students and local citizens to plant trees and create healthier communities for people to enjoy for decades to come," said John Rosenow, chief executive of the Arbor Day Foundation. "American University will benefit from exceptional tree-care practices on campus as it works with tree-care professionals in the community to improve the tree canopy in Washington."