Achievements
Kogod Cracks Forbes Ranking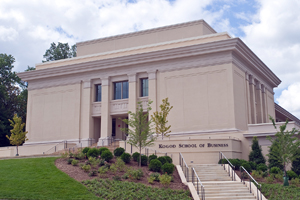 American University's Kogod School of Business ranks 59 out of 75 schools in Forbes's 2009 installment of its biennial the "Best Business Schools," a ranking of the best graduate business programs in the United States.  

This marks the first time Kogod has made the ranking. Earlier this year, Kogod also debuted among the top 30 in BusinessWeek's "Best Undergraduate B-Schools" ranking.
    
"At Kogod, we believe in the importance of an interdisciplinary approach to business education," said Richard M. Durand, Robert and Arlene Kogod Dean of the Kogod School of Business. "This ranking confirms that Kogod's flexible programs and cocurricular activities have helped our graduates succeed in today's complicated business environment."

The Forbes ranking is based on return on investment information reported by fulltime MBA program graduates. Approximately 17,000 alumni at 103 schools were asked to complete surveys; 24 percent responded.

Forbes compared graduates' earnings for the first five years out of business school to the cost of business school (two years of lost compensation plus payments for tuition and required fees).  Forbes adjusted for cost-of-living expenses and discounted earnings gains using a rate tied to money market yields.

The financial crisis of the past year has negatively affected job opportunities and salary increases, especially for those working in the financial services field—a popular choice among MBA graduates. The Forbes findings however show that going to a top business school is still a good investment. Graduates of the 75 ranked schools, including Kogod, reported they earned back their investment within the first five years after graduating.  

The "Best Business Schools" will appear in the August 24 issue of Forbes magazine. It also appears on the Forbes Web site. Forbes has compiled its best business schools list biennially since 2001. In 2010, it will become an annual feature.