Arts
A Monument to NO at the American University Museum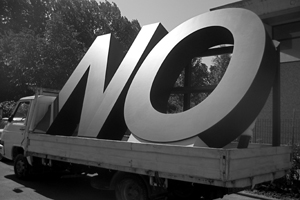 "No" is a simple word. It is one of the first words we hear—and say—as children. Although just two letters and one syllable, its power is undeniable. The most basic form of objection, Americans often use less blunt language to avoid conflict.
But as early as Thursday, May 6, anyone in Northwest Washington, D.C., will not be able to avoid the word "No" as it will be front and center in big, black, Arial font outside the American University Museum at the Katzen Arts Center.  
It is the work of Santiago Sierra, arguably one of Spain's most significant contemporary artists. Sierra conceived his monument to "No" and all of its nuances as an international touring work. Through the NO, GLOBAL TOUR, the sculpture has travelled on truck bed throughout Europe, New York City, and Miami before coming to Washington, D.C.—acting as a prop against different landscapes exercising its right to dissent.
In addition to Santiago Sierra: NO, GLOBAL TOUR, three other exhibitions will inaugurate the unofficial start of summer at the American University Museum.

A Glacier in the Heat of Summer
Georgia June Goldberg: Emergence, created specifically for the American University Museum, is the single largest installation in the museum's sculpture garden. It consists of white, wooden rhomboid boxes sheathed in ice-blue netting.  
The 44 irregular, shard-like boxes replicate a glacier as they rotate and reach up toward Ward Circle, a visual reminder during the heat of summer (the exhibition closes in early August) of the most pressing evidence of global warming: glacial melting. As early as Wednesday, April 28, portions of Emergence were already pointing up and over the walls of the sculpture garden.
"I am undertaking this project because of my personal love for nature, and my belief that art plays a powerful role in making us aware of the unseen," said Goldberg, a San Francisco-based artist. "I hope to poignantly call attention to the forces and fragile beauty of our environment, and the necessity of preserving it, here by showing the motion, force, and fragile beauty of fracturing glacial ice."
Forests and Families
Emilie Brzezinski: Family Trees is a metaphorical portrait of the Brzezinski family, crafted out of Emilie Brzezinski's trademark monumental freestanding, natural wood sculptures. The installation is an affirmation of the artist's cultural identity and the need for self-definition within one's family.
Brzezinski, the daughter of Czech parents, immigrated to the United States during the turmoil of World War II. She has been sculpting wood since she was a child who watched her father, an amateur wood carver, practice his craft in his tool shop. Her works, most of which utilize felled trees from which she carves sculptural forms–often retaining the vertical orientation of a tree—radiate a cultural appreciation for trees, the forest, and the legends of both.
The idea for Family Trees came to Brzezinski when she saw people's reactions to one of her prior exhibitions, Forest.
"What probably gave me the idea of placing a full-scale photograph of a human figure inside a trunk were my viewers—children as well as adults—who have obsessively expressed their primal nesting instincts by standing or curling up in or next to my sculptures, begging to be photographed," she said.  
Mika Brzezinski, cohost of MSNBC's Morning Joe, is Emilie's daughter and author of a just released memoir on family, All Things at Once (Weinstein Books, New York).

Drawing inSPIRATion
Programmed by emerging curators—students in AU's Arts Management program—inSPIRATion is 15 exhibitions in one, from graffiti art and spoken word to vanishing photography and junk-clock sculpture.
"As the word "spirat" is taken from inspiration, artists take inspiration from the world around them," reads promotional text written by the students. "They use images and concepts from other people, places, and sources in their own work. This exhibition features the relationships artists have with their own inspirations."
Santiago Sierra: NO, GLOBAL TOUR closes Monday, June 21. Georgia June Goldberg: Emergence opens Tuesday, May 4 and closes Sunday, August 8. Emilie Brzezinski: Family Trees and inSPIRATion open Saturday, May 8, and close Sunday June 6.
Commencement cermonies for the College of Arts and Sciences, Kogod School of Business, School of International Service, School of Communication, and the School of Public Affairs will also take place Saturday, May 8, and Sunday, May 9—opening weekend for all four exhibitions.

The American University Museum at the Katzen Arts Center is open from 11 a.m. to 4 p.m. Tuesday through Sunday. Admission is free. For more information, call 202-885-ARTS (2787).