Arts
AU Museum Celebrates Washington Project for the Arts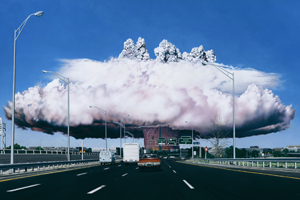 Connect bold, innovative artists through a variety of vibrant programs. Take a step back and watch what happens.

That was the idea of Alice Denney, a contemporary art enthusiast in Washington, D.C., 35 years ago when she founded the Washington Project for the Arts (WPA)—one of the nation's first and most enduring alternative arts organizations.  Indeed, since 1975, WPA has lived by this experimentation-favouring edict, fostering the success of numerous D.C.–area artists and catalyzing the region's rich contemporary arts scene.

Now, to celebrate the WPA's 35th anniversary, the American University Museum at the Katzen Arts Center will feature Catalyst: 35 Years of the Washington Project for the Arts, as one of the three exhibitions opening at the museum in early November.

Curated by J.W. Mahoney, a Washington-based artist, writer, and independent curator who serves as Washington's corresponding editor for Art in America, the exhibition is a dynamic, narrative recollection of the WPA legacy, showcasing more than 150 artists as well as exhibitions, programs, and events from its 35-year history.

The American University Museum has strong ties to WPA: Jack Rasmussen, director and curator of the AU Museum, was once the assistant director of WPA under Denney and the museum has provided space for the WPA annual art auction during the past several years.

"Together with the opening of the Hirshhorn Museum and Sculpture Garden, the invention of the Washington Project for the Arts helped to revitalize contemporary art in Washington, D.C." Rasmussen said. "It provided space, encouragement, and an audience for cutting edge artists—from emerging unknowns to, most famously, Robert Mapplethorpe when his photographic exhibition was cancelled by the Corcoran in 1989."

Rasmussen shares the WPA philosophy of supporting and showcasing cutting-edge artists. The American University Museum, under Rasmussen's direction since it opened in 2005, has shown numerous controversial exhibitions of socially-and politically-charged art by regional, national, and international artists.

Catalyst: 35 Years of the Washington Project for the Arts, opens Tuesday, November 9, at the American University Museum and closes Sunday, December 19.  Two additional exhibitions, Claudia DeMonte: Everyday Matters and Ed McGowin: Name Change (One Artist, Twelve Personas, Thirty Five Years), open Tuesday, November 2 and close Sunday, December 12.

Everyday Matters: Exercise or Labor?

Ask anyone sweating it out at the gym whether he or she thinks exercise is a luxury and the answer will likely be "No!" gasped between rhythmic inhale-through-the-nose, exhale-through-the-mouth breathing as high-tempo music blares from his or her iPod.

Yet most Americans exercise because our lifestyles are abundant with luxurious industrial and technological advances that make everyday life easy and require little if any physical effort.

We rarely have to walk from point A to point B for any major distance. Rather than forage and hunt for food, most of us drive to the store and buy it. In developing countries, everyday matters such as gathering food and water or washing any kind of clothing/linens require physical effort, much of it demanding labor.  The notion of exercise is foreign.  

Everyday matters and the luxury of exercise, framed within a larger examination of the roles of women around the world, is the focus of Claudia DeMonte: Everyday Matters.  

Works range from hand-carved wooden sculptures of items associated with the everyday life of a modern woman (high-heeled shoe, coffee maker, toaster, teddy bear) painted black and covered with pewter icons of other everyday items (television sets, tennis rackets, house plants, handbags, etc.), to primitive-looking bronze figures in yoga positions or carrying a large vessel/pot on foot.  

Before finishing art school, DeMonte had a brief modeling career that was launched after she was approached in 1969 by someone from the Washington Post. She uses her modeling photos in several of her works and her experiences feed into her themes of female objectification. DeMonte's "Claudia in Washington, D.C." consists of photos she took of men's faces as she walked by them in public to call attention to men's inappropriate ogling of women passers-by.

DeMonte and her husband, artist Ed McGowin, whose exhibition Name Change (One Artist, Twelve Personas, Thirty Five Years)  will show simultaneously at the American University Museum, were contemporaries and friends of artists in New York City during the 1970s, including Andy Warhol, Hannah Wilke, and Scott Burton. While a professor at the University of Maryland, DeMonte worked with Anne Truitt, Martin Puryear, and Sam Gilliam.

One Artist, 12 Personas

Whereas DeMonte has used photos of herself or a brunette ponytailed female figure as her representative in her art, McGowin has legally changed his name 12 times during the past 35 years to avoid having his name and identity attached to his work.   

Ed McGowin: Name Change (One Artist, Twelve Personas, Thirty Five Years) brings together the works created under McGowin's different personas and includes the official name change forms filed for each with the Washington, D.C., court system.

Each name and distinct persona have a different medium of work, themes, language, and outlook, creating a diverse body of art that cannot be defined by or categorized into any contemporary art classifications.  

McGowin's work, which follows in the footsteps of famous conceptualist Marcel Duchamp and continues Yves Klein's and Bruce Naumann's questioning of the traditional tenets of the artist (color, signature, and brush stroke), flies in the face of today's "celebrity" artist driven art market—collectors pay immense sums of money for work by certain, well-known artists with little regard for the work itself.

"I developed this theory as a means of freeing myself from a system that I found frustrating as a young artist at the beginning of my career: that my work should develop as a linear chain-link model with each creation leading logically to the next," McGowin said. "Had I created all of these works under one name, I believe they would have been received very differently...  The different identities under which I made this art may allow for a broader approach to receiving these images, without tying them to past history or future expectations."

The American University Museum at the Katzen Arts Center is open from 11 a.m. to 4 p.m. Tuesday through Sunday. Admission is free.