Achievements
Patriot League Honors AU Women's Basketball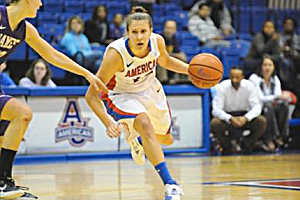 The American University women's basketball team won three of the four Patriot League major awards on Tuesday, led by Lisa Strack as the conference's Player of the Year. 
Ebony Edwards was named the Defensive Player of the Year, Alexis Dobbs was named Scholar-Athlete of the Year, and Matt Corkery was honored as the Coach of the Year. Dobbs was also selected as All-Patriot League First Team, while Jen Dumiak found a spot on the All-Rookie Team.

Strack, a senior guard from Langhorne, Pa., becomes American's second-ever Patriot League Player of the Year honoree.  She led the Patriot League in steals (2.7 spg), while finishing the regular season second in free throw percentage (78.0), eighth in scoring (11.7 ppg), eighth in assists (2.9 apg), and 11th in rebounding (5.6 rpg). Twice named the Patriot League Player of the Week this year, Strack scored in double figures in 16 games this season and tallied two double-doubles. She has appeared in 118 career games with 77 starts and this marks her second All-Patriot League selection following her Second Team honor last year.

Edwards picks up American's first Patriot League Defensive Player of the Award recipient since the honor was created in 2004-05. Hailing from Forestville, Md., the senior guard recorded 2.0 steals per game, third-most in the conference. Her seven steals in AU's win at Lehigh this year was the most by any Patriot League student-athlete this season. She appeared in all 28 games for AU with 25 starts and has now made 121 career appearances at American, the third-most in program history.     

Corkery earns his second Patriot League Coach of the Year nod in the last three seasons after guiding AU to a 22-6 regular season mark, including a historic 14-0 record in Patriot League play. In his fourth year at the helm at AU, Corkery has accumulated an 85-37 record with a 46-10 mark in conference action. Both his overall winning percentage (.697) and conference-only winning percentage (.821) are the best in Patriot League history.

In addition to the aforementioned trio of major awards, Dobbs, a sophomore guard from Berea, Ohio, joins Strack on the All-Patriot League First Team. The Patriot League Scholar-Athlete of the Year this season, Dobbs finished ninth in the conference in scoring (11.1 ppg) along with sixth in assists (3.0 apg), fifth in steals (1.9 spg), third in three-point percentage (37.1), second in three-pointers made per game (2.3), and second in assist-to-turnover ratio (1.3). Dobbs and Strack are the fifth and sixth First Team picks in Corkery's four seasons at AU.

Dumiak, a freshman guard from Carlsbad, Calif., rounds out AU's honorees by earning All-Rookie Team recognition. Dumiak finished as AU's third-leading scorer with 7.1 ppg this year, including 9.2 ppg during league play. She completed the regular season strong with five double-digit scoring outputs in the final seven games, including her first-career double-double on Saturday at Lafayette with 13 points and 10 rebounds. Dumiak joins teammates Edwards (2009), Strack (2009), and Dobbs (2011) as honorees on the All-Rookie Team.

Including Dobbs' honor as the Scholar-Athlete, this marks the first time since the Patriot League added the Defensive Player of the Year award in 2004-05 that one school has won four of the five major awards.

American became the first Patriot League team ever to record a perfect 14-0 record in conference play and enter the Patriot League Tournament as the No. 1 seed with homecourt advantage as long as it advances.