Communications
SOC's New Building Campaign Inspires Alumni Support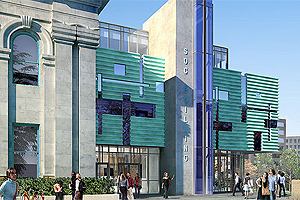 A fundraising effort to raise at least $13 million from alumni and friends for the restoration of American University's historic McKinley Building—the future home of AU's School of Communication—has made significant strides after several recent donations to The Campaign for SOC. 

The new gifts bring the campaign to an unprecedented level with a total of $4.8 million raised, including the largest gift to date from former Board of Trustee member Michael Forman. Forman's $1.5 million contribution names the building's planned 150-seat theater as the Malsi Doyle and Michael Forman Theater.

Forman's recent gift follows previous naming gifts from notable alumni in public relations, journalism and film including, Gary M. Abramson, BA '68; Laird Anderson, MA '73; James Brady, BA '89; Rhonda Joy Brown, BA '76; Richard L. Brown, MA '79, Patrick Butler, MA '96; Alisyn Camerota, BA '88; Jack C. Cassell, BA '77; Jennifer D. Collins, BA '94; David Drobis, MA '65; Carey Marie Earle, BA '88; Noël F. Greene, BA '95; Joy Thomas Moore, BA '72, MA '73; Tony Perkins, BA '81; Rodger Streitmatter, PhD '88; and Susan Zirinsky, BA '74.
Construction on the $26 million restoration project is scheduled to begin later this year, with expected completion during the 2013-2014 academic year.
Historic Past Leads to High-Tech Future
President Theodore Roosevelt laid the cornerstone of one of American University's first buildings—the historic McKinley Building—in 1902. Now, through historic preservation and new construction that will more than triple the school's current space, McKinley will be transformed into a high-energy, high-tech hub for communications. The restored building will preserve McKinley's iconic domed roof and marble column entrance, and add a second, modern glass entrance to celebrate the future of a growing communications industry.  

The project will enable the School of Communication, AU's only school without its own, dedicated space, to be housed for the first time in one building that will facilitate cross-disciplinary collaboration among students, faculty, alumni, and partners in academia and industry. The new facility, with anticipated LEED Silver certification, will strengthen the school's capacity to attract and retain the best faculty and students. It will feature digital classrooms, a media innovation lab, a focus group teleconference suite, the latest communication technology, and a 150-seat theater for master classes and screenings.

"Michael Forman's generosity, along with that of other alumni and community leaders, profoundly impacts our ability to complete this state-of-the-art facility for the next generations of communication leaders and augments the momentum of our recent fundraising successes," said American University President Neil Kerwin. "The university is confident that this philanthropic leadership will inspire others to step forth and help make this vision a reality."

Forman has been integral to the School of Communication's new home since the project's inception. He initiated the Forman Challenge Fund with an initial contribution of $250,000, which was matched dollar for dollar by the School of Communication's Dean's Council members. The Forman Challenge Fund underwrote the architectural plans to re-imagine the McKinley Building and set the stage to engage alumni and nationwide industry partners to keep the School of Communication among the nation's best.

Forman's relationship with American University began in 1982 when he joined the university's National Advisory Board before serving on the Board of Trustees from 1986-1996 and from 2002-2005. He established the Michael Forman and Bonnie Brae Forman Endowed Scholarship in 1984 for American University students majoring in communications, visual media, literature, or cinema studies. Additionally, he was a major contributor toward American University's Katzen Arts Center, which opened in 2005 as the university's first newly constructed building since the 1980s.