Journalism
Minority Journalism MA Students Shaping New Beats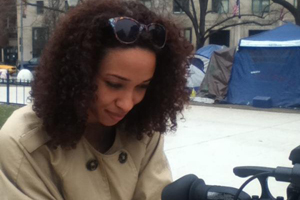 For Mylon Medley, American University's Master's in Journalism and Public Affairs program meant enhancing her skills to be able to join a media industry that values the ability to quickly adopt new technology.
"Anyone starting a career in journalism needs to be able to use video technology," says Medley. "I feel I've gotten good preparation for a career in journalism through this program and its hands on multimedia training."
For Luz Lazo, the program allowed her to build on expertise that was molded from working as a journalist for seven years in between undergrad and graduate school.
"Professor Angie Chuang's class on Race, Ethnicity and Community Reporting was a big influence on me," says Lazo. "I felt a calling to report on the issues that are affecting minority communities."
Both students have one thing in common: they are both minority graduate students trying to make a career in journalism. Recently Diverse magazine ranked American University's graduate communication, journalism, and related programs ninth in the nation for minority enrollment. More than a third of those enrolled in the Fall 2011 class of the program were of minority ethnicity.
Medley works as an intern at the local NPR affiliate WAMU, and Lazo has won a Fellowship with the Washington Post. And as minorities starting careers in largely white newsrooms, they have brought in a new perspective: Both are contributing to their news organizations with stories about issues that affect their communities and themselves personally.
Does either student think they've been pigeon-holed as minorities into writing minority-centric stories?
"No, I don't feel that way," says Lazo. "The stories I write are stories that interest me. I'm more interested in adding a minority perspective and a Latina perspective to the newsroom. I can do that through writing stories about minority communities in the DC area whose stories might not be told otherwise."
Medley feels similarly: "I'm very interested in African American issues and writing about them. I'm also very interested in multi-culturalism in general. So writing on these topics is something I enjoy."
For Rick Rockwell, interim Director of Journalism Programs for the School of Communication, the success of these two students is something to be celebrated.
"We're proud that our journalism program and other programs are contributing to adding diversity to media operations in D.C. and around the nation," Rockwell says. "Newsrooms haven't always been leaders in making those changes. But now we see a climate where journalism programs at universities, journalism organizations, and journalists themselves are really opening the door wide for diversity. The news media need to reflect our society in order to accurately portray it. Our students' personal experience will play a significant role there."