In the Community
Keeping the Flame Alive in Order to Discover D.C.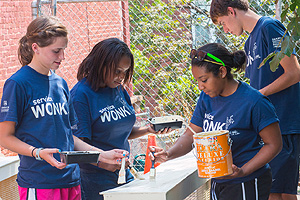 The 2012 Summer Olympics may have ended two weeks ago, but 570 American University freshmen carried the torch far beyond the confines of London.
With the theme, Keeping the Flame Alive, as their guide, first-year students participating in American University's twenty-third Freshman Service Experience volunteered their time at more than 50 non-profit organizations, schools, and community centers across the city. Their combined efforts on Wednesday, August 22 and Thursday, August 23 netted the first 9,127hours of service toward a university goal of 115,000 hours of service this academic year.
An AU tradition dating back to 1990, the Freshman Service Experience is the largest Welcome Week program for first-year students.
Last week, a group of students met some of their neighbors and helped lead exercise classes with seniors at the Iona Senior Center in Tenleytown. Another group of students helped paint the walls of Beacon House Community Ministry while several other students cooked meals and served clients at a few of the local food banks.
Freshman Taylor Morano spent his morning grating carrots and making string bean salad with his group members at the D.C. Central Kitchen.
"For us, we're working with people that we're living with; it's really cool to be doing service with people we'll be seeing every day, to get to know them on a personal level," he said.
Coming from central New Jersey, Morano explained that he had not really experienced the amount of hunger that exists in D.C., but added, "one of the reasons I came to AU was to get involved in this sort of thing."
Coordinators and managers of the organizations FSE works with appreciate the annual help from American University students. Montgomery County Park Services site coordinator Sarah Morse said that working with the students from American University is "a great opportunity for us to get manpower. It would take us weeks to get done what they can do in an afternoon."
While more than a third of the incoming freshmen class explored the city through service, other students participated in one of the 11 programs offered during Welcome Week.
About 400 students participating in the Discover DC program viewed the city's infrastructure (sidewalks, fences, and trash cans) to compare the different neighborhoods and gain a better understanding of their characteristics and cultures.
In more intimate groups of 20-25, students got to know Washington from vantage point of a bicycle seat; got a jump start on career planning with trips to XM/Sirius, the World Bank, and Washington Nationals Ballpark; and in a nod to Top Chef, the executive chefs in the Terrace Dining Room challenged the students to learn how to cook fresh and healthful meals using items that can be found in residence hall lounges.
From the uplifting opening ceremony to the inspirational closing, the Freshman Service Experience, as one student exclaimed, "creates a college community committed to helping others while embracing the values of a true AU Eagle."
And, as for the rest of the freshmen class, William Leap, a professor who got to know some of his students before the first day of class via the DC: The Unseen and Unheard program, summed it up nicely, "This is an amazing group of students. If the rest of the class is like the ones I met, I only want to teach freshpersons."
Contributions by Tiffany Sanchez and Maralee Csellar.