In the Community
Wonks Take Over Nationals Park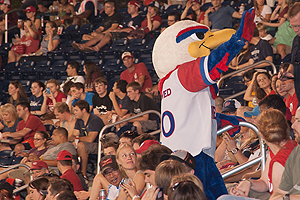 The first pitch might have been just a tad bit outside, but the rest of the night was pitch perfect.
AU President Neil Kerwin tossed the ceremonial first pitch August 31 at wonk night at Nationals Park. More than 1,000 AU alumni, faculty and staff gathered to watch the first-place Washington Nationals and celebrate the university's groundbreaking partnership with the franchise.
The first 20,000 fans in the stadium received a free red "Nationals Wonk" T-shirt. An AU Alumni Association barbecue sold out, and by game time every hot dog was gone. Several members of the Board of Trustees also attended the game.
Prior to the season, AU entered into a strategic partnership with the Nationals. The deal included AU advertising in the park as part of its WONK brand campaign.
"We chose the Nats because their fans and spectators are educated, influential, and represent many of our target audiences like alumni, parents, those likely to continue their education, federal workers, and local and national leaders," said Teresa Flannery, vice president for communication.
The team's success has led to increased excitement around town and visibility for the AU ads. During Nats home games this season, ads run in the program, on 200 display screens in concession areas, on the Jumbotron and out-of-town scoreboard, on the stadium LED banner that encircles the interior of the stadium, and on rotational signs behind first and third base and home plate.
AU has used the opportunity to feature its professional master's programs, and it hosted a graduate program information session and networking event at Nationals Park in June at the PNC Diamond Club.
The partnership, unique in the Washington world of higher education, couldn't have come at a more opportune time. The Nationals started the season hot and haven't cooled off. With one month left in the regular season, Washington leads the National League East Division and appears poised to earn its first playoff berth since coming to town in 2005.
AU is ready for the postseason as well. Its wonk ads will run in programs and in the ballpark if the Nats make the playoffs or World Series.
The wonk wackiness continued throughout the game as AU's mascot Clawed mixed it up with Screech, the Nats' eagle mascot. Clawed also participated in the vaunted presidents' race, although not even he could will poor Teddy Roosevelt—who's never won a race—to victory.
The Nats shutout the defending World Series champion St. Louis Cardinals 10-0, a fitting conclusion to one remarkable wonk of a night.