International
International Relations Online Masters Launches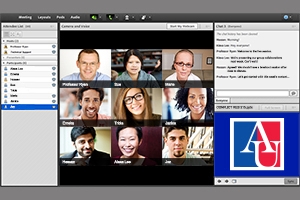 In an effort to bring AU's dynamic education to the wider world, the School of International Service is now offering an online master's degree in International Relations.
The new International Relations Online program is the first, top-tier, online, graduate program of its caliber in International Relations. Classes start in May 2013.
"There are a lot of very ambitious and very engaged people not able to come to campus to do a degree, but they still want the same high-quality program," said SIS Dean James Goldgeier. "In the coming years, this will be more and more attractive to people who cannot easily get to campus for their degree."
The new master's program allows students to take advantage of the SIS curriculum, faculty expertise, career advising and alumni networking while working largely on their own time. This affords students who are employed full-time or live outside Washington, D.C. the opportunity to access the same educational benefits as on-campus students.
The learning will be both synchronous - live learning - and asynchronous - learning that takes place at a student's own pace.
"Given that we are a leading international studies school, we needed to occupy this space," said Patrick Thaddeus Jackson, SIS Associate Dean for Undergraduate Education and one of the new program's instructors. "It wasn't a question of whether we were going to do this. It was a question of when."
The two-year program features a curriculum grounded in international studies. Students will also be required to select a focus of study in either Sustainable International Development or Global Security and Conflict Resolution.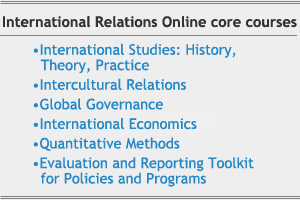 In terms of cost, the program is comparable to an on-campus degree. The objective is to "offer an educational experience that is as good as, and in some ways better than, the face-to-face degree," said SIS Associate Professor Stephen Silvia, who is directing the new program.
The online experience is not meant to mimic that of a traditional classroom, Jackson, who was recently named U.S. Professor of the Year for Washington, D.C., said.
APPLY: More information about AU's International Relations Online

This means having International Relations Online students participate in structured online debates or make virtual presentations to the class using multimedia. Students will also participate in weekly class sessions in a live, virtual classroom. Classes with generally 15 students will feature a video conferencing element similar to Google Hangout.
"The quality of the online platform is remarkable," Goldgeier said. "This isn't someone standing in front of a camera delivering a two-hour lecture."
The program, a partnership between SIS and education-technology company 2U, Inc., also features highly produced, self-paced content accessible to students whenever they want, as well as a social media component.
Many of the unique aspects to SIS's online master's program mirror Jackson's teaching methods- podcasting, blogging, and interactive group discussions.
Jackson said he likes the challenge of having to think about new ways of dealing with multiple learning styles, information delivery methods and student assessment through technology.
"The proper use of technology can be used to further the aims of student inquiry and a broader understanding of the material," Jackson said.