Government & Politics
Dean Barbara Romzek Promotes Vision for SPA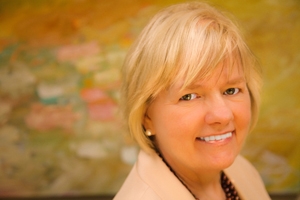 Since taking over as dean of the School of Public Affairs in July, Barbara Romzek has logged some serious frequent flier miles. She guesses she's traveled out of state two times a month since she arrived from the University of Kansas, where she served in various academic leadership roles. In one week alone, she traveled to Baltimore, Chicago, Kansas City, and New York.
But all that jetting around serves a purpose — to promote SPA and further enhance its reputation as a leader in the field of public affairs. During her travels, she's met with many AU alumni and leaders in the field to discuss strategies and challenges facing schools of public affairs.
AU sat down to talk with Romzek about why she came to the university, what her vision for the school is, and what she's eager to do in D.C.
What brought you to AU?
I'm in the field of public affairs and doing public affairs in Washington, D.C., is as good as it can get. It's like doing finance in New York City. When AU called, it was an attractive opportunity to do public affairs in Washington. AU is smaller than my last school, but it's on a bigger stage.
I'm not the kind of person who likes to coast. It's a big job, and there's a lot to do, but that was what made it attractive rather than scary.
It's also great to find a great staff team in place at SPA. I would like to emphasize the importance of the people--faculty and staff--at the school for making the job attractive.

What do you think is the value of being on a "bigger stage" for AU students?
I think there are unparalleled opportunities to take what they learn in the classroom-whether undergraduate, masters, executive, or doctoral-and see if it resonates in the real world. In public affairs in particular, there is an expectation that your education combines theory and practice. And it's easier to do theory and practice in a place like Washington where you've got public interest groups, the federal government, the Legislature, the Supreme Court, etc. There's no shortage of opportunities for students to be exposed to government. They get to be flies on the wall. Students end up knowing more than just what they're taught in the classroom, which is what gives them their particular edge when they're out looking for jobs.
How does SPA work to get students out into the real world?
The undergraduate curriculum has students out in the real world in the first year. Their class assignments send them out to interview people targeted to the class content. There's an expectation that they take what they learn and bring it back to the classroom and process it. And we place students in internships in nonprofits, government agencies, etc. One student I was visiting with had an internship at the White House. How many students have that kind of opportunity?
What is it like for you to be an academic in D.C.?
It's exciting, of course. My area of research and expertise is in accountability. In my role as dean, I am in essence doing fieldwork. My administrative responsibilities and the leadership I provide to the school offer me opportunities to see if the research I do holds up in the real world.
The research I've been doing lately is on informal accountability, which is about how to get people to work together when they don't have to. We are just beginning to undertake school-wide planning in SPA. People have come to me to ask how can they help. My answer is engage in the process because what I need is for people to talk to each other through informal mechanisms about how we can make the school even better than it is today.
In what ways do you anticipate informal accountability playing out in SPA's school-wide planning process?
My hope in that process is that we will find ways to encourage people to work beyond the boundaries of the organization patterns that we've established so far. I want us to be a school and not just a collection of departments. I'm looking for ways we can tap the talent and energy of all the departments so that the impact of the school is greater than the sum of the parts.
Do you have an example of how you'd like that to happen?
We have a new degree program that's about to be launched — Policy, Politics and Law Scholars. It's a three-year BA program that draws from subjects across departments. In terms of curriculum, it's drawing on the three units to provide students with a degree that pulls those things together. I want that to happen for scholarship as well. It's not that everyone has to work on the same project. Rather, my hope is that individual research projects contribute to a cumulative impact for the school that is bigger than what the individual research projects offer on their own.
What are your goals for SPA?
We have a very impressive base, with impressive faculty and talented, hardworking, and ambitious students. But because the world, in particular the arena of public affairs, is changing so much, we need to adopt those changes and position the school to expand our impact on public affairs. We need to have a conversation about how to strengthen the quality that distinguishes us. 
The school has remarkable alumni who have clearly benefited from the SPA experience and can tell us what they valued and what can be improved. We need to work on being better able to identify what we want the unique contribution of SPA to be. We need to do an even better job of research and education of our students. We can do this through our faculty research as well as our work educating students and preparing them to be successful alumni.

What do you really want to do in D.C. that you haven't done yet?
I haven't had enough time to do most of what I want to do. I love theater, I love opera, and I haven't had enough time to do any of that. The cultural amenities in D.C. are just great. I love live music. There's almost nothing I won't listen to. I love rock, I love jazz, I love opera.