Communications
Reporter Tackles Hot Topics with Multimedia Skills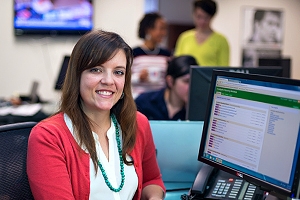 When Alexia Campbell graduated from college in 2004, she knew she wanted to be a print journalist. Reporting fed her love of writing as well as her curiosity about the world around her.
Before entering the professional fray, Campbell interned at the Knoxville News Sentinel in Tennessee. At the time, getting a job in traditional print media was challenging — readership was plummeting, advertising revenue was sinking, and newspapers were laying people off in droves. But Campbell had something that many cub reporters didn't have — Spanish and Portuguese language skills and an understanding of the Latino community.
"I'm so grateful I have these language skills. When I was younger, I never thought they would be useful," she said.
Campbell, 31, was born in the U.S. to a Mexican mother and a Brazilian-American father. She grew up in Sao Paolo, Brazil before returning to the U.S. for college. Her background made her an attractive candidate for journalism jobs in areas with sizeable Latino communities.
She eventually landed a gig as a Spanish-language reporter with now-defunct La Palma, a weekly publication of The Palm Beach Post. She then moved to the South Florida Sun Sentinel to cover crime and safety, as well as the region's diverse Hispanic and Portuguese-speaking communities.
After four years at the Post, Campbell was due for a change. She wanted to learn new media skills and beef up her investigative chops. Plus, she wanted to be in a place where big news was happening. So she enrolled in the School of Communication's MA in Journalism and Public Affairs program.
APPLY: More on American University Graduate Studies

"I was ready for a new challenge, and I felt it wasn't possible to get that at newspapers," she said. "Being in Washington, D.C. seemed like a great opportunity for me as a journalist."
As part of her master's degree, the Investigative Reporting Workshop at SOC awarded her a graduate fellowship, which they offer to professional journalists. During her time at IRW, Campbell has investigated and written about immigration and campaign finance issues.
While much of Campbell's work at the IRW has been in the print media realm, she decided to pursue the broadcast track for her master's degree. She wanted to enhance her journalist's toolbox with audio, video, and other multimedia skills. Despite entering grad school as an experienced print reporter, Campbell says she's building on the skills she's acquired over the years.
"I'm learning skills in my program that my old paper didn't have the time or resources to teach," Campbell said. "I'm having fun creating audio and video pieces and learning how to write for those different mediums."
In her first semester, Campbell created a professional website featuring her portfolio, her resume, and a link to her blog, which she also created at SOC. It was something she had wanted to do for a long while, but she didn't have the time or the skillset when she was a working journalist.
She also didn't have a lot of time to pursue another professional interest of hers — animal and wildlife news. At AU, she created a blog called The Claw featuring "news & notes about our capital's animals." She's posted original reporting about unsolved animal cruelty cases, deer hunting in Rock Creek Park, and horse-mounted police on Inauguration Day.
Campbell isn't sure what part of the media she wants to go into when she finishes her graduate degree this semester. She does know that whatever route she chooses, she wants to report stories from a multicultural perspective using her knowledge of Spanish and Portuguese and the communities that speak those languages. As the Latino population grows — in particular the Brazilian diaspora in the U.S. — and as Brazil becomes a more influential nation, Campbell sees her upbringing as a boon.
Whatever field Campbell decides to pursue, she is confident that SOC will help get her there. She hopes the professional connections she's made while at AU along with technical skills she's acquired help elevate her in a competitive media market.  
"I know my degree will take me to another level in terms of jobs with larger media companies. The professors all know so many influential people who like to partner with AU," she said. "I feel like this program is a stepping stone to get me to do more national news."