Humanities
Khrushchev Details U.S., Russian Relations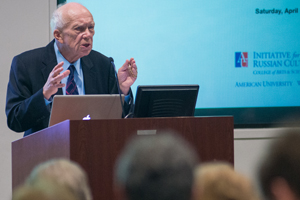 In October 1962 during the height of the Cuban Missile Crisis, Soviet Premier Nikita Khrushchev ordered Soviet ships to turn back before they reached the American blockade of Cuba.
Some in his country felt this move signaled a capitulation on the part of the Soviet regime. But that's not how the Soviet leader viewed it, according to his son, Sergei Khrushchev, who recently spoke at a symposium at American University.
MORE: JFK's AU Speech: 50 Years Forward on Peace
"We have an expression about who blinks first and my father knew this expression. Sometimes you blink first not because you're weaker, but because you're wiser," Khrushchev said.
The event, titled "The Strength in Dialogue in Russian-American Relations" and sponsored by the Initiative for Russian Culture, took place on campus Saturday. It was one of many events scheduled to commemorate the 50th anniversary of President John F. Kennedy's 1963 commencement speech at AU, "A Strategy of Peace."
Khrushchev joined former Congressman James W. Symington, former U.S. Ambassador to the Russian Federation John Beyrle, the Susan E. Lehrman Chair of Russian History and Culture Eric Lohr, IRC Executive Director Anton Fedyashin, and graduate student Allen Pietrobon, in a discussion about the legacy of the Cold War.
WATCH: Videos of the 50th Anniversary of JFK's Speech at AU
Vladimir Pechatnov, chair of the Department of European and American Studies at MGIMO University in Moscow, recorded video comments for the event.  
"We were very grateful that Dr. Khrushchev could participle with us on such an historical occasion," said IRC Chair Susan E. Lehrman. "His authentic perspective was enlightening and brought that particular era to life. Dr. Khrushchev's remarks, along with those of our superb roster of panelists, helped make the symposium the success I believe it was."
The symposium focused largely on historic relations between Russia and the U.S. over the years and the dialogue between the two countries.
"It was about the slow, meticulous, painstaking exchange of ideas. It was about the fact that dialogue isn't a sign of compromise or weakness," Fedyashin said. "When dialogue takes place, good things happen."
About 250 people attended the symposium, including Russian Ambassador Sergey I. Kislyak. Also in attendance were many students from the Consortium of Universities of the Washington Metro Area.
While the discussion was largely about Russian-American relations, the panelists also related historical issues to what is happening today in Iran and North Korea. They used Kennedy's seminal peace speech to illustrate what is possible within the realm of diplomacy.
"President Kennedy's speech meant a great deal to American University and the world at large when it was delivered in 1963," said College of Arts & Sciences Dean Peter Starr, who attended the symposium. "As our distinguished panelists showed, its message of cross-cultural understanding still resonates today. We hope that our symposium reinforced the need for constructive dialogue, not just between Russia and the U.S., but between nations around the world."