Alumni
A Building's Name and a Family's Legacy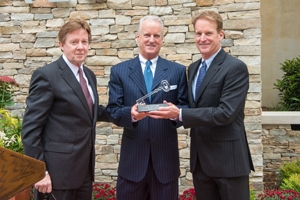 The newly opened Cassell Hall is an impressive building. With eight floors, 346 beds for residents, and a spacious fitness center, it's a welcome addition to American University's campus. But there's also a story behind the development of the new residence hall. It's the story of a family.
The naming of the building recognizes $3 million in gifts from AU alumnus Jack Cassell, his wife Denise, and the Cassell family. The newly named Stafford H. Cassell Jr. Fitness Center honors Jack Cassell's twin brother, Stafford, who is also an AU alum.
The AU Cassell tradition stems from their father, Stafford H. "Pop" Cassell. At the Cassell Hall and Stafford H. Cassell Jr. Fitness Center dedication ceremony on September 27, AU President Neil Kerwin extolled the senior Cassell's legacy: "Pop Cassell is known correctly for the contributions that he made to the athletic program at this institution. But, in fact, Pop Cassell was a vice president at this institution, a true leader of this institution, at one of the most crucial periods in its history."
"I've grown to love American. And it's been easy to see a path to donate my time and resources to AU," Jack said in an interview. He wanted to give back to the university that had such a profound impact on him.
The dedication ceremony was well attended, with university leadership, staff, students, and friends of the Cassell family on hand. In special recognition of the Cassell family's support of AU Athletics, the men's basketball team came out to show their appreciation.
Growing Up at AU
Jack and Stafford grew up around AU's campus. Their father was a coach, athletic director, and vice president at the university. "We loved the fact that we'd get the keys to the gym. We could go down to the baseball field and run around there, clean out the candy and soda machines," Jack recalls. "We just loved being around the campus, and also being around the athletes." They were even bat boys for the university baseball team. Stafford Cassell Jr. adds, "We did everything on the weekends with my dad. And he lived and breathed American University."
When Stafford H. "Pop" Cassell passed away, Jack and Stafford Jr. were just 10 years of age. And the AU community took care of both sons in the aftermath. "We had so many friends on campus. And all those people just embraced us and watched out for us," Stafford Cassell Jr. says.
Naturally, they both attended AU. Jack, who played goalie for the university soccer team, graduated with a degree in communication in 1977. Stafford Cassell Jr. graduated with a business degree that same year. Jack Cassell is currently president and CEO of Visual Aids Electronics, an audiovisual services company. He started out delivering equipment there, worked his way up through the ranks, and bought the company in 1988. Stafford Cassell Jr. is a manufacturing sales representative and runs his own company in the Richmond, Va. area. He has two grown children, Bretton, and Stafford H. Cassell III.
Now a third generation is represented at American. Jack's daughter, Jacqueline, and his stepson, Devon, a member of the AU wrestling team, are both set to graduate in the spring. In fact, Jacqueline now works in the new fitness center named for her uncle. She's a public communication major, and she also plays the drums. Though she's keeping her options open, Jacqueline is considering merging these two skill sets and pursuing a public relations career in the music business.
A Stronger Connection to Campus
Construction of Cassell Hall is part of the university's Campus Plan to expand academic and residential facilities in support of the university's Strategic Plan. Cassell Hall, with its breathtaking eighth floor views of the Washington skyline; the newly expanded Nebraska Hall; and the yet-to-be constructed East Campus complex (which will include three additional new residence halls) directly support point number 2 of the Strategic Plan: Provide an unsurpassed undergraduate education and experience.
"Where and how students live during their college years can make substantial contributions to their learning and sense of connection with the university," says Gail Short Hanson, vice president of Campus Life.
Cassell Hall is comprised of sophomores, juniors, and seniors, a group AU purposefully sought to please. "Everything we're doing is suite or apartment-style living to attract juniors and seniors," explains Chris Moody, assistant vice president of Housing and Dining Programs.
"I moved into Cassell and was so happy I stayed [on campus], just because everything is already provided for. You don't have to account for utilities or furniture," says Brooke Loving-Bagwell, a sophomore who lives in a suite with three roommates.
In the suites, the bathrooms are devised so that multiple people can utilize the area at the same time. Each floor has its own lounge and kitchen. In accordance with AU's commitment to being carbon neutral by 2020, solar panels are being installed on the roof to provide heat and hot water.
Maeghan Crociata, a junior, worked on campus over the summer and moved into Cassell early. "In Cassell, it's your own little house, almost. So you get basically everything that you need," she says.
"I was really pleasantly surprised with the layout. I was not expecting nearly as much space," says Loving-Bagwell.
More Room to Run
University officials also wanted to expand their fitness facilities, and the new Stafford H. Cassell Jr. Fitness Center doubles the amount of exercise space on the main campus. It's housed in the Cassell Hall building, but it's open to all students and features cardio equipment, weight rooms, and two dance studios. "It's providing our student body with another great facility," says Billy Walker, the school's athletic director. "[AU's Jacobs Fitness Center] is certainly crowded, especially in the afternoons. So I think it was critical to get something like this for the campus."
"You walk past it at night, and you see all the treadmills full. So from my view, it's been very successful," says Katie Fults, the Cassell Hall resident director.
"I can't tell you how proud I am of this facility," says Stafford Cassell Jr. "And what it means to our family."