Research
Food Education Nation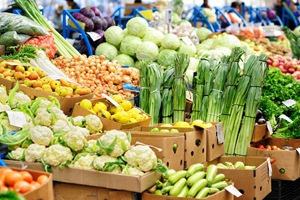 Once upon a time, food was simply something you ate. A couple might go into a diner, order a meal, and leave. They probably didn't ponder where the food was grown, or whether it had high fructose corn syrup in it. They might scarf down cheeseburgers and never question how the cattle were treated, how the meat was prepared, or even how many calories they just ingested. Cooking a meal at home might have involved just a few basic ingredients.
That time in the United States is long gone. Americans are becoming more sophisticated about food, with a proliferation of reality TV cooking shows, food books and websites, and gourmet restaurants. "Culinary sophistication is no longer the province of a tiny gourmet elite," writes author David Kamp, in his book The United States of Arugula: How We Became a Gourmet Nation. He described the "creation of an expanded leisure class that treats food as a cultural pastime." And, despite people's increasingly refined palates, an obesity epidemic has raised consciousness about nutrition and health.
Food in Higher Ed
The food trend has hit higher education and American University. About a year ago, biologist Jeffrey Kaplan started up the interdisciplinary Center for Food Studies, which draws on AU faculty and students who carry out research on the social, political, and economic aspects of food. A 2012 New York Times report detailed the growth of food studies programs in recent years, dating the earliest comprehensive programs to the mid-1990s.
Upon starting the center, Kaplan established links to faculty from a number of AU departments. "The thing about food research is food is such a broad topic that it's very hard to really define it," Kaplan says. "There's a lot of overlap because food really encompasses all of humanity. It's so diverse."
Kaplan also identified certain AU strengths in food research. Childhood obesity, nutrition, health promotion, and food marketing were already studied extensively here. Anastasia Snelling, an associate dean for the School of Education, Teaching, and Health, has focused on nutrition and health promotion for many years. For her work with a Washington, D.C. middle school on hunger and obesity, she was part of a group to be honored by First Lady Michelle Obama in 2011. Sonya Grier, from the Kogod School of Business, researches the relationship between marketing and consumer health, with a focus on obesity.
Tackling Obesity
The work of Snelling and Grier is especially relevant for a nation dealing with both nutritional deficiencies and high rates of obesity.
Grier thinks there is greater awareness about food marketing that targets African-American communities, while consumers are getting more health conscious. "There's been so much information because of the obesity epidemic. There are national programs like Let's Move! from Michelle Obama, and counter-marketing efforts that are trying to counter what food marketers are doing," Grier says.
Snelling points out that the federal Healthy, Hunger-Free Kids Act and the local D.C. Healthy Schools Act have helped reform school cafeterias. "That's only part of the equation. We need physical activity and movement. But because of those two national and local policies, we have really started to put healthier foods in front of children," Snelling says.
The Culture of Food
We may need it for daily sustenance, but food is now analyzed as a potent cultural symbol. AU history professor Katharina Vester first became interested in studying food when family members frequently gave her cookbooks. It was a not-so-subtle suggestion for her to start cooking. But she actually began reading the cookbooks critically, not for cooking tips but as historical and sociological texts. "I thought 'this is incredible.' These are instructions of how to live our lives," she recalls.
Vester now teaches about food and American identity, and she also edits the undergraduate e-journal Food, Media, and Culture . She has been particularly impressed with her students' knowledge of food. "They're amazing," says Vester, who hosts a potluck and notes that some students will even bring homemade mozzarella. "More of my students know how to cook, especially more of the guys."
Through the Internet and numerous TV cooking shows, members of the millennial generation now have extensive food intel at their disposal. While in high school, Joy Resor became a fan of the Food Network (which David Kamp labels the ESPN of the food world). Now a senior at AU, Resor is co-president of A Taste of DC, a student food club. The group usually eats out at new restaurants in the city once every two weeks. "There are so many good cuisines here. There's Ethiopian, Italian, Chinese. I mean, anything you really want is right here," she says. Although young people are often health conscious, Resor notes that many college students can't afford to buy organic at Whole Foods.
Two Americas
While affluent Americans shop at farmers' markets and cook pricey organic meals, working class families don't have the money for such luxuries. It's yet another example of the two Americas. "It becomes a privilege to eat well in this country, and that's a problem," says Vester, who is writing a book about social status and American food.
Some academics affiliated with the Center for Food Studies have studied "food deserts," mostly low-income areas with limited access to fruits, vegetables, and other healthy foods. Maya Maroto, an instructor in the AU School of Education, Teaching, and Health, has examined nutrition and hunger in underserved communities. She stresses how time and money are major obstacles for healthy eating. "You've got more two-income households than ever. It's just the reality that the more time you spend working, the less time you have to spend on things like food preparation and shopping and meal planning," Maroto says.
Conflicting Messages, New Solutions
Even in elite circles, there's been some backlash to the gourmet craze. "The patty melt has been pushed aside in favor of the herb-encrusted medallions of baby artichoke hearts, which never leave me thinking, Oh, right, those! I wonder if they're as good as the ones my mom used to make," wrote humorist David Sedaris in his bestselling book Me Talk Pretty One Day. In addition, the basic health assumptions of wholesome food advocates are sometimes questioned. A recent cover story in The Atlantic argued that organic or unprocessed foods bought at Whole Foods can be just as caloric as fast food.
It's possible that many Americans are just plain confused about what to eat. Barely a week passes without a new study challenging conventional wisdom about nutrition, and what can or cannot lead to heart disease. And through advertising, the market is flooded with conflicting messages about health and diet. In the same sitting, you might see commercials for diet plans like Weight Watchers and Jenny Craig, and later be enticed by the Carolina BBQ WHOPPER at Burger King or a Snickers candy bar.
"There's a whole lot of research, especially about kids, that talks about the 'TV diet.' The recommended diet from the government is not at all what kids-or anyone-sees on TV," Grier says. In 2011, Grier co-authored a paper on food well-being, which dealt with the paradox of American eating. "We're obsessed with calories, we want all these low-fat things; diets are promoted like crazy. But at the same time, people are getting fatter and fatter," she explains.
Though companies now disclose much more nutritional information about their products, Snelling says food labeling is actually more confusing. "I don't think we've helped consumers understand because front-of-the-pack food labeling is unregulated," she says. For instance, a package might say the food is "whole grain," though only a small amount of whole grains are actually in the product.
This is where academic programs like the Center for Food Studies could find solutions. By studying food from every angle-biological, sociological, economic, environmental-AU hopes to provide valuable research and foster debate. Academics affiliated with the center are applying for several grants, including one that deals with childhood obesity among Latinos. Kaplan says he's looking to organize conferences, including a program on genetically modified organisms (GMOs). "My goal here as the director of the center is to bring diverse faculty members together," he says.