Business
Reaching the End Zone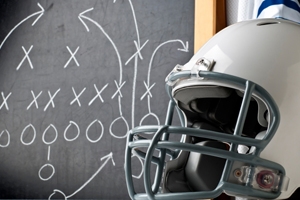 The Denver Broncos will square off against the Seattle Seahawks in this year's Super Bowl. But general managers and coaches throughout the rest of the league are already back to the drawing board, hoping to figure out how their teams can reach the big dance in 2015. Attaining success in the National Football League is elusive for many teams, and maintaining success over a long period of time can prove even more vexing.
Mark Clark, an associate professor of management at American University's Kogod School of Business, has studied high performing teams and leadership. He's examined traditional businesses, surgical teams, and sailing teams that compete in America's Cup. Now, with the Super Bowl approaching, he agreed to talk a little football. Though he doesn't claim to know the exact roadmap to NFL glory, he does offer insights about effective leadership, innovation, and team building in the nation's most popular sport.
Nice Guys and Drill Sergeants
Head coaches are critical to team success, but their styles of leadership vary significantly. "It's always interesting that we call the NFL leader 'coach,' and yet that doesn't mean the same thing for all the different teams. Some [leaders] are in full charge of things, and they're almost like the CEO of a corporation," Clark says. Other coaches are more like teachers, assessing and developing players' skills.
Every football fan hears TV commentators talk about the player's coach—who gains his team's love and devotion—versus the old school, authoritarian leader who evokes fear and respect.
You can find examples of both of those styles working. Former Indianapolis Colts coach Tony Dungy was a popular player's coach, and he made the playoffs 10 consecutive seasons and won a Super Bowl. The notoriously gruff disciplinarian New England Patriots coach Bill Belichick—who smiled just seven times during press conferences this season, according to The Wall Street Journal—has won three Super Bowls and five AFC championships.
"There is no one best coach or best leader for any of these teams. It's finding the right fit," Clark says. But Clark also opines that successful coaching in the NFL extends far beyond that.
Each coach must have a strong power base, which is how he obtains legitimacy from his players. The coach then instills values within the organization. "This is where we hear organizations that have a culture of winning versus those that don't," Clark says. And, lastly, the leader devises a process to accomplish the goal of winning.
More than Just a Crapshoot
Franchises mainly build their rosters through the NFL Draft. Yet despite extensive scouting and evaluation, including tests for speed, strength, and intelligence at the annual NFL Scouting Combine, teams have difficulty predicting which college players will excel at the pro level. A University of Pennsylvania Wharton School professor recently completed a research project showing that—aside from the occasional great or lousy year of selections—there are no differences in teams' abilities to draft over time.
So is success in the NFL just random luck of the draw? Like with any other business or team, Clark believes you can create an environment conducive to winning.
"What you're trying to do as a leader, whether it's in sports teams or work teams, is making sure people understand what the system is," Clark says. Resources and goals are identified, and players are given feedback on exactly what they need to do. "People see that they should cooperate. But then there are other times that I want them to internally compete with one another. Like when you're having first string versus second string on the practice field."
Since drafting is so unpredictable, part of a coach's challenge is getting the best out of his potential talent pool. This is also important in free agency. Clark points out how the Washington Redskins could never motivate $100 million free agent bust, defensive tackle Albert Haynesworth. Yet Belichick brought in wide receiver Randy Moss—an immense talent who had a reputation for taking plays off—and helped facilitate Moss' record-breaking 23 touchdowns in 2007. (At a fraction of the cost, Belichick later tried to rehabilitate Haynesworth, but he was released after playing just six games.)
"A good coach can take players and help them understand that subsuming their own goals to the goals of the team will also help them individually in the long run. And that's part of building that culture of winning," Clark explains.
Innovation and Preservation
It's been noted that the NFL fosters innovation, with teams constantly trying to gain an edge through creative play calling and new defensive schemes. Some teams make advances, and the rest of the league usually follow suit.
The Oakland Raiders have been accused of obstinately clinging to an old formula. The Raiders rose to prominence in the late 1960s by throwing the deep ball under quarterback Daryle "The Mad Bomber" Lamonica. The late owner Al Davis was also obsessed with speed, based on past winning experiences with receiver and world class burner Cliff Branch in the 1970s and early 1980s. As a result, critics charge that the Raiders have overvalued strong-armed quarterbacks and speedy, but unpolished wide receivers for many years.  
Clark compares this to the U.S. auto industry. "Thirty years ago, you had your car for five years, you expected it to break down a certain amount of times, and it was going to start rusting, especially if you were living in the northern half of the country….That has changed markedly since they opened up and had more competition come from outside," Clark says. "We actually have to adapt [American cars] because now the environment demands something that is of a higher quality."
Describing the need for NFL defenses to adjust, he mentions the recent influx of fast, mobile quarterbacks, including Colin Kaepernick of the San Francisco 49ers and Russell Wilson of the Seahawks, who faced off in the NFC Championship Game. "It wasn't that you can't defend that, it's that defenses weren't used to defending it. You had to go back and re-scheme," Clark says.
With few exceptions, classic drop-back QBs have been the ones hoisting the Lombardi Trophy and sponsoring Disney World. But this Super Bowl Sunday, Wilson of the Seahawks will take on pass-first traditionalist, Peyton Manning of the Denver Broncos. It's a battle between classic and new, past versus future. It's a metaphor for the NFL: teams constantly changing, but assiduously studying what works.