On Campus
Trans Trailblazers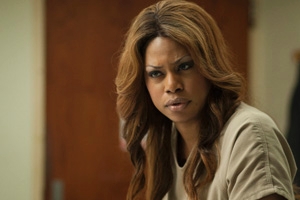 The event wasn't scheduled to start for another 90 minutes, but American University students were already camped outside of Ward 1. They were anxiously awaiting the arrival of Laverne Cox, one of the co-stars on the critically-acclaimed Netflix series "Orange is the New Black."
"I think she's phenomenal, both as an actress and also as a spokesperson for her community," said freshman Grace Wakelee-Lynch. "It's really wonderful how open she is and how excited she is to educate people about her personal story, and what it means to be transgender."
Cox is not just a TV star, but a cultural trailblazer for young people embracing diversity. In addition to her breakout role on "Orange is the New Black," Cox was the first African-American transgender woman to appear on an American reality TV show, VH1's "I Want to Work for Diddy."
Now, Cox is using her platform to advocate for transgender people, and she could be a catalyst for wider acceptance of transgender rights throughout the country.
Addressing the Students
Cox spoke eloquently about her personal history, and she breezily synthesized the philosophical ideas of Sojourner Truth, Cornel West, and bell hooks.
"I stand before you tonight a proud, African-American transgender woman, from a working-class background raised by a single mother," she said. "And I believe it's important to name the various intersecting components with my multiple identities, because I am not just one thing."
Cox talked about the bullying she endured growing up in Alabama. "I was actually being bullied because of my gender expression, because my gender didn't conform to how folks thought someone assigned male should act," she said.
She also discussed her eventual move to New York City many years later. "For the first time in my life, my gender expression was something that was celebrated. Something that was an asset and not a deficit," she recalled.
Cox was a big hit with the AU students in attendance. "I was really overwhelmed by her poise. Just by how comfortable she was with herself, and how comfortable she made the room," said Kathryn Cassibry, a senior international studies major.  
The Will & Grace Moment
The TV sitcom "Will & Grace" was widely credited with bolstering public support for gay and lesbian rights. "I think 'Will & Grace' probably did more to educate the American public than almost anything anybody's ever done so far," Vice President Joe Biden famously said in 2012. The transgender community hasn't quite had its "Will & Grace" moment, but supporters believe Cox's character Sophia Burset could have a positive impact.
"I think having trans characters and trans actors and actresses in the public sphere, and visible in the media, is incredibly important to changing minds and changing hearts," said AU alumna Sarah McBride (SPA '13).
McBride, who is transgender, said it's also important to have transgender characters represented in a compelling and accurate way. "My first exposure to the word 'transgender' was through a television show. And to think if that portrayal had been done in a more respectful and accurate way, I can't imagine how my life may have been different, and how much earlier I would have been comfortable living true to myself."
Lisa Judd, a senior business major at the event, added that Cox's Sophia is "just a character that someone can relate to. It's the first transgender person in public that I've really personally identified with."
Transgender Rights
While noting that her presence on this TV show is significant, Elijah Edelman pointed out the major challenges facing transgender people on the ground, such as access to affordable housing and employment.
"The biggest needs facing trans folks are not being met," said Edelman, an expert on trans rights and an adjunct professor in the Anthropology Department.
Edelman also argued that gay rights lobbying groups such as the Human Rights Campaign have adopted an agenda benefiting upwardly mobile white people. This means focusing on gay marriage, adoption, or military service—issues less relevant for transgender people dealing with homelessness, high suicide rates, and threats of physical violence.
Despite the widespread use of the term "LGBT," AU anthropology professor William Leap—an expert on lesbian, gay, and transgender issues in the College of Arts and Sciences—said gay rights groups have distanced themselves from the transgender community.
"A lot of transgender activists have been out there in the foreground, and they still are. And they're by themselves," said Leap, the organizer of this weekend's annual Lavender Languages and Linguistics Conference at AU. It is North America's longest-running academic conference on language use in lesbian, gay, bisexual, transgender, and queer life.
"Trans has been sort of swept underneath, even though gender nonconforming folks have been a part of activism and the movement from the late 1960s onto today," Edelman said.
David Pitts, a School of Public Affairs professor and an expert on LGBT politics and policy, has interviewed transgender students at historically black colleges and universities. And he's gathered some anecdotal information about their circumstances. "They lack a community. So unlike gay men or lesbian women, there aren't enough of them. And they can't find each other in ways to give them a cover or a safety net," Pitts explained.
Pitts noted that getting solid numbers on how many transgender people live in the U.S. is incredibly difficult. Yet he does believe if more legal protections are implemented, the numbers will grow. "I think it's most certainly the case that more and more transgender individuals will be coming out," he said.
AU Support
The AU Student Government Women's Initiative hosted the Laverne Cox event. Leap credits AU, which was recognized by Newsweek in 2010 as one of the most diverse and gay-friendly schools in the nation, for supporting diversity and having these kinds of forums. "AU has always been a place where the Laverne Cox people can come, and they've always been welcome," Leap said.
But at AU, diversity and inclusion extend beyond campus events. While McBride was at AU, she was president of the student government and received one of the university's highly-esteemed awards for Outstanding Service to the University Community.
Last fall, thanks in part to collaborative efforts between McBride and university administration, AU became the first university in the District of Columbia to offer a student health insurance plan that covers much of the costs for gender reassignment surgery and transitional care.  
"It underscores our values as an institution," said dean of students and assistant vice president of Campus Life Rob Hradsky in a web story about the new insurance plan. "When you look at what AU is all about, it's about inclusivity and embracing diversity. Rather than just saying, 'Diversity is important to us as an institution,' this is a way that we're demonstrating through our actions that it really is important to us."