Athletics
A Banner Season Comes to a Close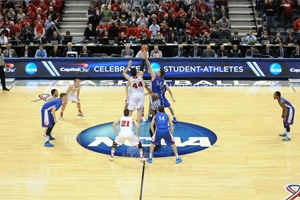 In the end, Wisconsin had a bit too much. Too much size, too much strength, too many red-clad fans in the stands.
But no one could question AU's heart. In the final game of the unlikeliest of seasons, the AU men's basketball team fell to Wisconsin in the second round of the NCAA Tournament, but gained respect from basketball fans near and far.  
After the final seconds ticked off the clock in a game the outcome of which wasn't in doubt, the small but vocal contingent of AU fans, dressed mostly in blue, applauded the players for a season that included so many highs.
"Wisconsin has dismantled some really good teams this year - they're a No. 2 seed for a reason," AU coach Mike Brennan said. "But I give our guys a ton of credit for the year that they had. It's a tough loss, but those guys had a terrific year."
The loss didn't damper what was an amazing AU run that included a 20-13 record, a victory in Boston to claim the Patriot League Tournament title, and a trip to Milwaukee to take on a Big Ten power on the national stage.
The first day of spring here brought some much needed sunshine – if not warmth – to southeastern Wisconsin. A few hours before tipoff alumni and fans joined the dance team and cheerleaders as the pep band played during a breakfast reception at Molly Cool's on 4th Street, just two blocks from the Bradley Center. Hope was there too, but mainly fans and friends of the program simply relished the chance to visit with old friends and the opportunity to relive a surprising and joyful season.
Brian Christianson, SPA/BA '87, and his wife, Dana, brought their sons Brady, 13, and Brice, 11. He's a Wisconsin native (with the accent to prove it), and lives near Madison, where he grew up.
"I told my kids you can't wear Badgers stuff, we're going to the AU reception," he said. "Everyone I work with is UW grads, so we've been having fun on Facebook. My kids are wearing neutral red. That's the best I could do."
Athletics Director Billy Walker, who hired Brennan in April, reflected on the coach's season, the most successful one by a first-year coach in school history.  
"A lot of teams take on the personality of the coach, and he was a tough player," Walker said. "You see how we play. We play tough defense and we're hustling all the time."
The Eagles started the game in exactly that fashion. After an initial burst by Wisconsin, junior John Schoof hit two big three pointers to stem the tide. AU took its first lead at 11-10 when senior star Tony Wroblicky hit one of his patented one-handed free throws. The rest of the half was back and forth, with AU silencing the crowd every time the Badgers faithful tried to will their team to a blowout.
"Every other play we were on our feet. It was pretty pumped up," said Joanna Blatchly, SIS/BA '09, who landed in Milwaukee at 10:30, took a cab to the arena, and flew back to Washington later that night. "They're young guys, it's nice to see them come together. They don't let what's expected of them get them down."
Wisconsin took a 10-point lead into halftime, but after the teams emerged from the locker rooms, the game was effectively over. Wisconsin's size and athleticism, not to mention its defense and AU's cold shooting, propelled the Badgers to a lopsided 75-35 win.
 "Those guys can keep their heads up high, they had an unbelievable year," Wisconsin coach Bo Ryan said of the Eagles. "I think Coach Brennan got every bit that he could get out of those players."
With only two seniors on the roster, AU will return virtually the same team next year, when they undoubtedly won't be picked to finish ninth in the 10-team Patriot League, as they were before this season.
"We're obviously going to miss Tony [Wroblicky] a lot, but looking ahead all the guys that are coming back, we're ready to pick right back up and keep working for next year," Schoof said. "We've had a great group of guys from the start. I love playing with these guys. We weren't picked to do well at the beginning of the year, but it didn't really faze us. I think all of us love playing together."
And we've loved watching them.