Achievements
Her Best Shot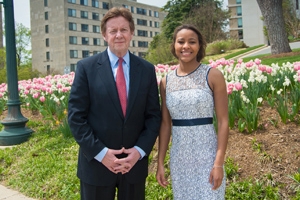 Throughout her life, Alexis Dobbs has always welcomed a challenge. As captain of the American University women's basketball team, she relished the spirit of competition. And in describing her passion for basketball, she adds this illuminating observation: "It's a game that you can never be too good at playing. There's always some aspect that you can improve, all the time. It's just something that you can't master. You can work towards perfection, and that's the fun of it."
That pursuit of excellence has characterized her time at AU, with her academic achievements matching her athletic ones. Now, Dobbs has received the highest honor for undergraduate students: The President's Award, which is presented to a graduating senior whose accomplishments are considered exceptional and reflect American University's highest ideals. To be considered for this honor, she took part in an interview process and was officially nominated by two professors and a classmate. AU President Neil Kerwin broke the news to her with a phone call.
A Family Tradition
Dobbs comes from a family of athletes. Her mother, Karen, ran track at Florida State University, coached track at Boston College, and is now a teacher. Her father, Frank, played basketball at Villanova University before embarking on a career in coaching. While her father was the men's basketball coach at Brown University in Rhode Island, Alexis hung around the team. "I was the little girl in my dress, running around playing basketball," she recalls. Frank Dobbs is now associate head coach with the men's basketball team at Bryant University in Rhode Island.
Alexis Dobbs grew up primarily in Berea, Ohio, a suburb outside of Cleveland. She attended local public schools before going to Hathaway Brown School in Shaker Heights. "It's an all-girls school, and they really teach women's empowerment," she says. After making her mark on the basketball court in high school, Dobbs was recruited to AU.
The AU Experience
Dobbs majored in public health with a minor in biology in the College of Arts and Sciences. A self-described "health freak nerd," she especially enjoyed classes on infectious disease and the sociology of birth and death.
"Alexis was wonderful. She always sat right in the front and she asked great questions. She was an incredibly organized individual," says Kathleen DeCicco-Skinner, a professor who taught Dobbs in her cell biology class. DeCicco-Skinner notes that Dobbs was always willing to assist other students in the laboratory. "She's very determined to help others, and she kind of has this natural empathy."
Basketball is a yearlong commitment, with an off season that includes running, lifting, and agility training. During the season, practices typically lasted from noon to 4:00 p.m., so Dobbs generally took classes during mornings and evenings. Despite this hectic schedule, she learned how to balance competing demands. "You have to plan ahead. You have to know yourself. Not everyone works the same way. And sometimes you have to stay up later than you want to," she says.
All of her hard work certainly paid off. Her grade point average exceeded 3.8, and she was named Patriot League Scholar-Athlete of the Year three times.
Dobbs also took part in community service projects in Washington. As part of her team's outreach efforts, Dobbs acted as a "big sister" to Kayla, a 12-year-old girl diagnosed with a brain tumor. After Kayla's death, Dobbs and others have continued to participate in the annual Race for Hope to raise money for brain tumor research in Kayla's honor.
Finding Her Calling
Despite all of Dobbs' accolades, her journey hasn't been easy. She has suffered numerous knee injuries and battled through multiple rehabs. "As clichéd as it sounds, it shaped who I am," she says. "You begin to not feel sorry for yourself. You begin just to grow, and become stronger, and you take it day by day."
In many ways, her basketball tenure and her academic pursuits have intersected. Playing sports generated interest in health and the human body. And during her first knee surgery, Dobbs met the woman who would become her future mentor and greatly influence her career plans.
"I've had many knee surgeries, but I guess it's a blessing in disguise that I was able to meet my physician assistant at the Cleveland Clinic," Dobbs says. "So from knowing her, shadowing her, and talking with her, I really became interested in becoming a PA."
In August, Dobbs will enter a joint program through Cleveland State University and Cuyahoga Community College to earn her M.S. in physician assistant studies.  
Lasting Bonds
In early March, her teammates took her out for a surprise dinner to celebrate her admission to PA school. Dobbs emphasizes the bonds she formed with her fellow Eagles.
"We'll hang out like we haven't seen each other all day, every day. I'm fortunate because if you have to be somewhere for four years, you want it to be with people that you actually like and are friends with," she says. "They become more than just your teammates."