International
An Amazing Journey
For much of his life, Serge Okogo has faced seemingly insurmountable odds. But it's a good bet he'll find a way to succeed. Despite going deaf at the age of three, he's never been held down by his disability. And despite significant obstacles for deaf people in his native Gabon, Okogo scratched and clawed his way towards an education and eventual relocation to the United States.
This month, Okogo is earning his master's degree in ethics, peace, and global affairs from American University's School of International Service. This caps an amazing journey for Okogo, who jumped through numerous hoops just for the right to attend high school in Gabon. Now, Okogo is prepared to launch a career in diplomacy. But not merely content with his own success, Okogo is determined to help other people with disabilities.
Formative Years
"I've had a lot of struggles, but I've also had a lot of successes. It has been tough, certainly. Some people have told me before that they couldn't experience what I've experienced," Okogo says.
As a child in Gabon, in Sub-Saharan Africa, he initially attended an elementary school with hearing students. "At the time, I had no interpreter at all at school. So that was, of course, frustrating. And teachers would ask me to read things, and I wouldn't necessarily understand what was going on," he recalls.
Later, he transferred to a school for the deaf, where he excelled in all of his classes. Yet when he reached his high school years, he was stymied: There was no high school in his area for deaf students. He went to a government office and inquired about a scholarship, but he was told he needed his high school degree first.
But how could he accomplish this without access to a high school for the deaf? This would require tenacity and creativity. He hoped to attend a high school for the deaf in France, but first he started working in a marketplace in Gabon. "I'd save the tips I got, and kept investing it and saving money every single day," he says. He subsequently found out how to take online high school classes in France through the French Embassy.
Yet a post office strike in Gabon threatened to derail his education again, as he couldn't pay for his coursework through the mail. Thankfully, Christian and Catherine Kerangall, a French couple he met in the marketplace, were willing to act as intermediaries. He would give Catherine cash, and she wrote checks and sent them to the school. The couple became like an adoptive family, flying to France and buying him course books there. While preparing for a graduation test during his senior year—which had to be taken in person—a registrar's office in Gabon resisted helping him.
The Kerangalls eventually paid for much of his education at a private school, again with hearing students and no interpreter. Despite these challenges, he did well academically and got his high school diploma.
College Life
Okogo eventually secured a scholarship to come to the United States. He wanted to attend Gallaudet University, a leading Washington, D.C. school for deaf and hard of hearing students. But he initially enrolled at a technical school in Louisiana. "People there were surprised to see me. They weren't even used to seeing deaf students, let alone students from other countries," he says.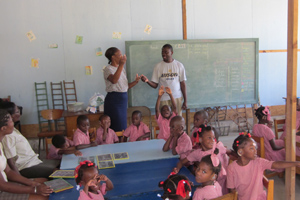 Okogo would transfer to Northern Virginia Community College before finally landing at Gallaudet. During that period, he served as president of a black deaf advocates group. Through an International Deaf Partnership program at Gallaudet, he attended Clinton Global Initiative meetings in Miami and San Diego. He also got involved in several overseas charitable missions: Okogo worked for deaf schools in Mali and Gabon, and he volunteered on an educational project for children with disabilities in Haiti.
The AU Impact
Okogo arrived at AU in 2012, and he speaks glowingly about his time here. He's had interpreters for virtually anything he's done on campus, and he's been particularly impressed with the curriculum. He spent a year working for the Institute on Disability and Public Policy for the ASEAN Region. It's a project of COTELCO: The Collaboration Laboratory, a research center housed at SIS.
"Right now, I'm trying to encourage other deaf people to come to American University, because I do feel as though it's been so accessible. And I really feel as though the tools, for both deaf and hearing individuals, are provided here," he says. "I've had such an inspiring experience."
Not surprisingly, members of the AU community have learned from Okogo as well. "It has been so enriching, both for me as the professor and for the rest of the students, to have Serge in class," says Sherry Mueller, an adjunct professor in the School of International Service. This semester, Okogo was in her practicum on cultural diplomacy and international exchange. 
She had never taught a deaf student before, but she felt his presence greatly enhanced the classroom discussion. "It was amazing to me how quickly the class adapted to having the interpreters there, and how personable and engaging Serge is," she says. "Interestingly enough, although he's limited linguistically, he's still an accomplished communicator. And he's one of the people giving some of the other students some valuable tips on oral presentation."
Okogo has already interned at the Embassy of the Gabonese Republic in the U.S., and he's hoping to work as a diplomat after graduation.
"I want to break down those barriers and show, even as a deaf person living in Gabon, we can do so much."