Television & Film
The Other Side of War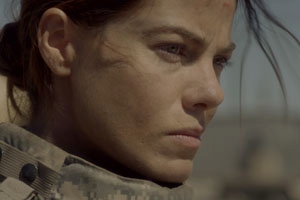 An Idea is Born
A filmmaker can derive inspiration from many sources. For Claudia Myers, an American University School of Communication professor, it came from a soldier's story. As her new film, Fort Bliss, is set for its East Coast premiere, she explains how the project got started. While working on an interactive training film for the U.S. Army, she talked with soldiers and combat veterans. One sergeant she dealt with was a single father who did two tours in Iraq.
"I asked him what he did with his son while he was deployed, and he said he had to leave him with the neighbors," recalls Myers, who was startled by this information. "It just felt like there was a whole side of the war that I had never really thought about, which is the burden on the families."
With the U.S. fighting two major wars since 2001, she was curious about the impact the conflicts have had on soldiers and their children. Myers can also relate to this struggle on a personal level. "When I'm on a project, I'm away from my children," she says. "I feel that tension between wanting to pursue a career and also being a good parent."
Inside Fort Bliss
Myers wrote and directed Fort Bliss, a story about an Army medic and single mother coming home from Afghanistan and reconnecting with her young son. The film stars Michelle Monaghan, who has appeared in Gone Baby Gone and the acclaimed HBO series True Detective; and Ron Livingston, best known as the lovable anti-hero in the cult favorite Office Space. The cast includes other notable actors, such as Freddy Rodríguez (of HBO's Six Feet Under) and seasoned pro John Savage. At the Newport Beach Film Festival in April, Savage compared Fort Bliss to one of his earlier movies, a 1978 Vietnam War classic. "Fort Bliss is the best movie I have seen on the subject of returning veterans since The Deer Hunter," he said.
Myers also used a number of active duty soldiers in Fort Bliss, which was shot at the El Paso, Texas-based military installation for which it is named. For production purposes, Myers' script first had to be vetted by Army public affairs and other military staffers reaching all the way up to the Pentagon. Myers credits the military for supporting the film, particularly because it delves into sensitive issues facing soldiers and veterans, such as post-traumatic stress disorder and sexual assault.
"I think it presents a very realistic portrait," Myers says. "Their hope in supporting it was that it would help raise awareness about some of the challenges that soldiers face when they come home."
Her movie-making has only deepened her appreciation for military families. "I became really interested in these stories, and these personal experiences that soldiers had lived through that were so intense and so complicated," she says.
In addition to involving military brass in the filmmaking process, Myers integrated input from the AU community. Myers gave an opportunity to a veteran in her screenwriting class, Mike Hardy. He started out reading the screenplay to ensure that it genuinely reflected the military experience. Hardy was impressed with the story, and in the end, took part in nearly every phase of the project. "I started out as a gopher, and my title now is associate producer. So for Hollywood standards, it's a pretty significant title," he says. "It was amazing. I had a chance to work on a major independent film as a film student."
Hardy, an Army veteran who did two tours in Afghanistan, earned his master's degree from AU in film production and video in 2012.
Telling Stories
Myers is American but spent much of her childhood living in France. Her initial passion wasn't film, but storytelling. She came to the United States in hopes of becoming a writer, and she earned her bachelor's degree in comparative literature from Yale University. She later worked for a small film production company, which sparked her interest in movies. In the late 1990s, Myers had a formative experience working in development on The Thin Red Line, a World War II drama by auteur Terrence Malick.
One of her short films, Buddy & Grace, was screened at the Sundance Film Festival in 2002, and she earned her MFA in writing-directing from Columbia University. In 2006, she wrote and directed the movie Kettle of Fish.  
Myers has continued her film career while teaching classes at AU—thousands of miles from Hollywood. "One of the things I love about AU is that the school encourages us as teacher-scholars to develop our own work," says Myers, a professor of film and media arts.
As a filmmaker, her influences are numerous. Among her many inspirations for Fort Bliss, Myers mentions The Hurt Locker, Winter's Bone, and Blue Valentine. Her visual style was also informed by talented photojournalists, such as Damon Winter, Craig Walker, Peter van Agtmael, and Adam Dean. "I felt like the front lines work that Army medics do is not all that well known in the mainstream media. And I wanted the film to feel as real as possible," she says.
For the Audience
Fort Bliss will make its East Coast premiere on Sunday, May 25, in Alexandria, Va. at the GI Film Festival. Monaghan is expected to be on hand for the 6:30 p.m. screening at the Old Town Theater. The film will serve as the centerpiece of the festival's salute to women in the military. The festival is touted as the "first in the nation to exclusively celebrate the successes and sacrifices of the service member through the medium of film."
Myers hopes Fort Bliss will resonate with both civilian and military viewers, and she has kept in touch with military personnel who worked on the film. "We want them to feel that they're a part of the process through the end," she says. "And the hope is that this film will ring true to them."
A North American distribution deal was recently announced with Phase 4 Films, enabling a wider release in the fall.