International
Getting a Jump-Start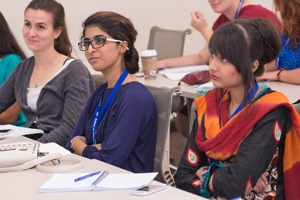 If you're a high school student, taking college credit courses can be daunting. But for two students recently involved in the Community of Scholars program at American University's School of International Service, there was added pressure: They were a long way from home. Safa Bareera Khan and Emina (she goes by one name) hail from Pakistan, and this was their first trip to the United States. Yet they hardly seemed intimidated by the new environment. Many students in the Community of Scholars program are ready, willing, and able to meet the challenge.
On Their Own
"I've met some amazing people over here. It's very different from Pakistan," says Emina, who is now a high school student in Karachi. "The food, the people, the ideas—everything is different. But it's different in a good way."
"It's the first time that I've traveled to any other country, outside of Pakistan," says Khan, also a high school student from Karachi. "I'm learning to be without my parents, to be all on my own, and I'm gaining more confidence."
Though women still face obstacles in the Pakistani workforce, Khan and Emina are both determined to have rewarding careers. Emina believes Community of Scholars expands opportunities for young female students, and that's one reason why she was drawn to this particular program. "It was about being a proud woman and doing something that could actually benefit you and the people in your country," she says.
Khan—whose mother is a schoolteacher—says her family encourages her to follow her dreams and study wherever she chooses. When she was admitted into the Community of Scholars program, her grandfather was especially excited. "He was really happy and he was saying to my parents, 'Oh, you should let her go, and you should all be happy and you should not be worried,'" Khan recalls.
The Full Experience
The Community of Scholars welcomes high school students inclined towards international relations. The SIS program was started in 2008, but it was expanded two years ago to include a residential component. Students take one week of classes online before coming to campus for two weeks.
"They're often interested in being in the Foreign Service, or working in the Peace Corps," says Page Hogan, director of pre-college programs at SIS. "A lot of high schools don't have curriculums that include international relations. So this is an opportunity for students to get a jump-start on that interest."
The classes are taught by SIS faculty and last three hours per day. Students take part in a number of other activities, such as résumé writing and college admissions workshops. This summer, they visited the World Bank, the United States Institute of Peace, and the embassies of Canada and Saudi Arabia.
Since college credit courses are rigorous, Community of Scholars participants tend to be serious and dedicated. "In general, it's a pretty self-selecting group. They really want to be here, they're polite, and they're engaged," Hogan says.
Many COS students end up applying to AU. This year, 47 COS students applied to AU;of those students, 40 were admitted and 28 will enroll this fall. Past COS students have certainly distinguished themselves. Caroline Brazill, a former COS participant and current AU rising senior, was recently named a Truman Scholar.
Future Eagles?
AU is now on the radar of some 2014 COS students. Colin Ellis is an incoming senior from Denver, and he plans to apply here. His father did Washington Semester at AU when he was in college. "I toured American in February and loved it. It's like I walked on campus and I knew this was my place," says Ellis. "And then I figured out any summer programs I could find here. I found this one, and I just absolutely love it."
This summer, Ellis took the class, "Diplomacy and Dictators: U.S. Foreign Policy in an Uncertain World." That included a National Security Council simulation, and he served as the "director of national intelligence" for the class. This subject matter could prove particularly useful, as Ellis hopes to work in the intelligence community someday.
"I really like this program. It's made me consider applying here a lot more than any of the other schools I've been looking into," says Savina Tapia, a rising junior from Boston. She spent time in China last summer, and she wants to pursue international relations in college.
Also a rising junior, Meredith Whitaker is from a suburb outside of Columbus, Ohio. "I've always been interested in American. So I thought this is a perfect opportunity to experience the school and live in the dorms," she says.
Whitaker appreciates the personal attention and academic guidance she's received from faculty. "I really like the curriculum. It's a lot more interesting than high school classes you can take," she says. "Now I have a better understanding of how college will be."