International
Renowned National Security Experts Join SIS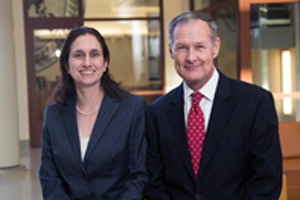 American University's School of International Service (SIS) announced today that national-security experts Lieutenant General David W. Barno, USA (Ret.) and Dr. Nora Bensahel will join SIS on January 12 as distinguished practitioner-in-residence and distinguished scholar-in-residence, respectively. General Barno, a highly decorated senior officer with over thirty years of military experience, and Dr. Bensahel, a prominent scholar, are preeminent authorities on U.S. national security, defense, and military affairs.

"We are absolutely thrilled to welcome Dave and Nora to the School of International Service," said SIS dean James Goldgeier. "Dave and Nora are very highly regarded experts on national security issues and will add immeasurably to the school's research, teaching, and activities related to defense and military studies."

"We are very glad to be joining a school with the reach, depth, and energy of SIS," said Dr. Bensahel. "We couldn't imagine a better place to connect scholarship with policy." General Barno added, "In addition to our policy research, Nora and I will be working on a book on the history and future of warfare. We are both truly excited to collaborate with faculty members and students on this important project."
About Gen. Barno

General Barno commanded at every level during his thirty-year Army career, serving as an infantry officer, Ranger and paratrooper. He served in special operations forces with Army Ranger battalions, including combat in both the Grenada and Panama invasions.

In 2003, he was selected to establish a new three-star operational headquarters in Kabul, Afghanistan and take command of the 20,000 U.S. and coalition forces in Operation Enduring Freedom. For nineteen months as the senior American commander, he was responsible for overall coalition military leadership of the war in Afghanistan, implementing a new counterinsurgency strategy in close partnership with the U.S. embassy and coalition allies.
From 2006-2010, General Barno served as director of the Near East South Asia Center for Strategic Studies at the National Defense University. Concurrently, he was the chairman of the Advisory Committee on Operation Iraqi Freedom and Operation Enduring Freedom Veterans and Families from 2007-2009.

General Barno frequently serves as an expert consultant and commentator on national security policy, civil-military issues, the changing character of conflict, and leader development. Since leaving military service, he has published extensively and testified before Congress over a dozen times. General Barno was most recently a Senior Fellow and Co-Director of the Responsible Defense Program at the Center for a New American Security. He is a member of the Council on Foreign Relations and the International Institute of Strategic Studies.

A 1976 graduate of the U.S. Military Academy at West Point, General Barno earned his master's degree in National Security Studies from Georgetown University. He is a graduate of the U.S. Army Command and General Staff College and the U.S. Army War College. General Barno has received numerous awards for his military and public service.
About Dr. Bensahel

Dr. Bensahel was most recently senior fellow and co-director of the Responsible Defense Program at the Center for a New American Security, where she previously served as deputy director of studies. She is a widely published expert on U.S. defense policy, U.S. military operations and force structure, coalition and alliance operations, and leader development. Her CNAS publications include Hard Choices: Responsible Defense in an Age of Austerity, The Seven Deadly Sins of Defense Spending, Building Better Generals, and "Charting the Course: Directions for the New NATO Secretary General."

Prior to CNAS, Dr. Bensahel served as a senior political scientist at the RAND Corporation, where she authored numerous reports including After Saddam: Prewar Planning and the Occupation of Iraq, and "The Experiences of Foreign Militaries," in Sexual Orientation and U.S. Military Personnel Policy. Dr. Bensahel has also written several book chapters and has published articles in Survival, Journal of Strategic Studies, Joint Force Quarterly, Studies in Conflict and Terrorism, Defence Studies, and European Security.

Dr. Bensahel spent more than a decade as an adjunct professor in the Security Studies Program at the Edmund A. Walsh School of Foreign Service, Georgetown University, where she taught M.A.-level classes and received the Alumni Leadership Council Teaching Award. Dr. Bensahel is also a frequent commentator in well-known media publications and programs.

Dr. Bensahel received her Ph.D. and M.A. degrees from the Department of Political Science at Stanford University and her B.A., magna cum laude, from Cornell University. While at Stanford, she worked as a research assistant for former Secretary of Defense William J. Perry. She held fellowships at the Center for International Security and Cooperation at Stanford University and the John M. Olin Institute for Strategic Studies at Harvard University.