Student Life
#BlackLivesMatter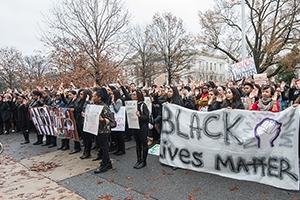 The tragic events in Ferguson, Missouri have reverberated everywhere. Many American University students have had an emotional reaction to both the killing of Michael Brown and the grand jury's decision not to indict the police officer responsible. Students have taken part in demonstrations and discussions on and off campus. In a variety of formats, they've worked to generate constructive dialogue on police brutality and racism.
Reactions on Campus
At around 11 a.m. on November 24, Jasmyn Shumate read that the grand jury's decision on Ferguson police officer Darren Wilson was expected that day. "I was checking Twitter constantly, I was notifying people, texting people," she recalls.
Still awaiting word around 8 p.m., she was working at her job in the University Library. "I couldn't really focus. I was running to the T.V. and the hallway, trying to figure out what was going on," she says. She eventually discovered that Wilson wouldn't be indicted.
"That was a wake-up call for me—the numbness that I felt. I really didn't know how to feel because…I didn't know how to place those emotions," she says now.
Shumate had already been active on Ferguson and other social justice-related issues, but she says this added more fuel to the fire. "We have to ensure that we mobilize and we capitalize now, because there's a sense of urgency within the student body," she states.
Growing up in Cleveland, Ohio, she says black men in her family had to deal with police misconduct. Now a junior at AU, Shumate is double majoring in public relations and in interdisciplinary black cultural narrative studies. She's also president of the Black Student Alliance.
Tatiana Laing, a junior CLEG major, wrote about issues surrounding Trayvon Martin's death on her blog. But after the non-indictment of Wilson, she wanted to take more direct action nationally and on campus.
"When you're talking about a matter of life or death, it really is hard to ignore."
Laing explains why the death of Brown resonated with AU students. "For an African-American male, as the statistics show, it's very likely to have been them. Or, as an African-American woman, we have brothers and we have fathers. It's just a very personal thing."
Caroline DeLeon is coordinator for multicultural and first generation programming at the Center for Diversity & Inclusion. She's seen first-hand the disappointment some students are feeling in recent weeks.
"The climate on campus is intense, which reflects what's going on across our nation," she says. "It's a mix of anger, of frustration, of confusion."
In a campus-wide memorandum, American University President Neil Kerwin directly addressed the impact of national events on the AU community. "Events in Ferguson, Missouri, and elsewhere—and reactions to them nationally—serve as the latest stark reminders that members of our society feel at risk and that they are targets of fear and disrespect based solely on their skin color," he wrote.
Standing in Solidarity
A student-led demonstration was held on Wednesday, December 3, on the steps of Mary Graydon Center. Signs included "Stand with the People of Ferguson," and the popular "Black Lives Matter." Around the time of the gathering, news broke that there would be no indictment over the chokehold death of Eric Garner in Staten Island, New York.
"I got involved in organizing this because we saw a need in our campus community," says senior Angelica Pagan, a double major in political science and economics and one of the planners of Wednesday's event. "We wanted to stand in solidarity against the systemic and institutional racism that's occurring."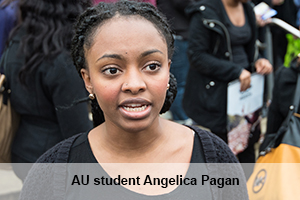 Pagan led the powerful die-in, when participants lay on the ground to symbolize the long length of time Michael Brown remained on the ground after the shooting.
"We wanted to honor lives that have been taken due to police brutality," adds senior Charles Walker, who also spoke at the Wednesday demonstration.
Afterwards, Eyek Ntekim says getting involved in this matter was a no-brainer. "I'm a black woman in America, and this is an issue that's plaguing every single region of this country," says Ntekim, a junior public health major. "I feel like this was just a step in addressing the fact that we're not in a post-racial society."
This was a recurring theme when talking with students. Amidst the second term of the nation's first African-American president, they argue that racism is still a pernicious presence in American life.
If there were a need to underscore that point, it came in the form of posts on Yik Yak, a social media channel that allows users to anonymously post to others within a 10 mile radius. The posts, which contained racial slurs and hate speech directed at the demonstration participants, generated anger, hurt and condemnation by university leaders.
"Racism and bigotry have no place in our community," said President Neil Kerwin. The posts illustrated the need, despite progress in diversity and access, to "rededicate ourselves to efforts that cultivate a safe, respectful and inclusive environment," said Vice President of Campus Life, Gail Hanson. In a community that balances respect and inclusion with freedom of expression—for even abhorrent speech—efforts aimed at creating a more respectful climate will likely include educational conversations and honest exchanges.
Honest Debate
Several students also emphasized the need for candid—and likely uncomfortable—dialogue.
Gian Alvarez, a senior accounting major, is an RA in Anderson Hall. "We try to explain to our residents the issues of racial equality, and we try to foster these conversations when they came up," he says. "We want everybody's voice to be heard, and their opinions to be heard, because that's how we learn and can grow."
The Center for Diversity & Inclusion gives students a safe space to discuss and confront racial and ethnic divisions. On Friday, December 5, CDI hosted a well-attended community dialogue on Ferguson and related events. Participants broke into small groups, with conversations led by trained facilitators.
Ferguson in Context
AU has held multiple faculty forums on Ferguson. Cathy Schneider, a School of International Service professor, has been a prolific and thoughtful voice in the media. In an interview, Schneider puts Ferguson and the Garner chokehold death in context. People living in poor, black, and Latino neighborhoods believe they are under siege from their own police forces, she argues.
"That is the reason Ferguson has this kind of resonance, because people all through the country are experiencing the same thing. And Ferguson made the country pay attention."
Schneider explains why police officers involved in shooting civilians aren't usually indicted or convicted. District attorneys and police departments work in concert with each other. "Since they work together all the time, there are also personal relationships. And they have the opposite relationship with poor minority communities, which they only see in the context of criminal charges and trying to get convictions," she says. "That division means that when police are charged, district attorneys don't want to bring indictments."
A Broader Movement
Going forward, Tatiana Laing stresses the importance of altering racial perceptions. This means a re-examination of basic assumptions many Americans make every day.
"There's that inherent fear of a black man walking down the street, and that's no fault of an individual person. Even as an African-American woman, I have been conditioned to fear that exact thing. It's larger than just saying, 'Oh, there's racism and individuals are racist.' We're all products of society."
Laing hopes Ferguson can be a springboard for a much broader movement. "These protests were sparked by Ferguson, but I'm pretty sure all of these movements acknowledge that the issues are way bigger than Mike Brown or Trayvon Martin or Eric Garner," she says. "Our goal at AU was to join the conversation, but also to have a commitment to continue the conversation."