Education
American University Master's in Education Degree Prepares Teachers to Lead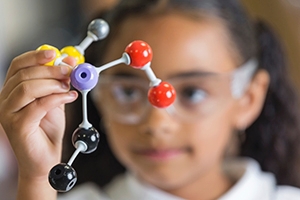 To prepare teachers and other education professionals for today's challenges ranging from the Common Core state standards implementation to school improvement initiatives, American University's School of Education designed a master's degree focused on education policy and leadership. Degree candidates choose from two new tracks: policy studies and teacher leadership.
"No matter how brilliant or researched a policy idea is, the wheels always fall off if there's weak implementation," said Jason Snyder, director of AU's education policy and leadership program. "That's why American University's master's in education policy and leadership focuses as much on putting policy into practice as it does on policy development."
Recent research conducted by AU revealed the need for a program to equip two groups with these important implementation skills: teachers and other professionals who want to serve as leaders in organizations that implement educational policies and programs, and teachers who want to serve as school-based "teacher leaders" who provide instructional support and help shape school-improvement efforts. 
Policy makers, school officials and nonprofit leaders interviewed said they see a need for those with analytical skills and a deep knowledge of implementation of programs and policies. AU course offerings in the policy studies track now include classes that emphasize data analysis, performance management, technical assistance, and program administration.
The struggles and successes of the Common Core rollout highlight the importance of implementation and teacher leadership in education. In Baltimore City Public Schools, for example, officials created a career pathway through which "lead teachers" could help with Common Core transition and other instructional efforts. The District of Columbia Public Schools similarly adopted a career ladder, called Leadership Initiative for Teachers, that gives high-performing teachers advancement opportunities. Many of D.C.'s expert teachers on this ladder serve as coaches who help other teachers put into practice the Common Core in their classrooms. 
With increased national attention on instructional quality, teacher leadership is more important than ever before. AU's M.Ed. program graduates will be prepared to adopt these new leadership positions and career paths within schools. AU's teacher leadership track arms teachers with skills necessary to guide change within a school, including instructional leadership, data analysis, and knowledge of key content areas like literacy or STEM. 
"Teachers are the often-forgotten experts of school improvement," Snyder said. "Our program elevates the role of teacher to teacher leader by giving teachers the tools to make an impact--not only in their own classrooms, but across their schools." 
AU's M.Ed. program is offered through the School of Education in the College of Arts and Sciences. To qualify for graduation, M.Ed. students must complete 30 credits -- 12 core requirements and 18 credit hours from track courses. To learn more about AU's Education Policy and Leadership M.Ed., visit http://www.american.edu/cas/education/policy/index.cfm