AU Announces Partnership with Marine Corps College of Distance Education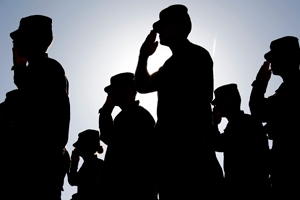 American University School of International Service Announces Partnership with Marine Corps College of Distance Education
Washington, D.C.
– June 7, 2016 – A new partnership between American University's School of International Service (SIS) and the United States Marine Corps was announced today, offering valuable professional development opportunities to graduates of its College of Distance Education and Training (CDET). The new partnership will allow Marines to pursue advanced studies in fields including global security, U.S. foreign policy and national security, international development, and international negotiation and conflict resolution.
"As one of the world's leading schools of global affairs, the School of International Service is committed to addressing 21st century problems from a multitude of perspectives, including foreign policy, development, security, and negotiation," said Benjamin Jensen, Donald L. Bren Chair of Creative Problem Solving and Director, Center for Applied Creativity at Marine Corps University, and AU SIS Scholar-in-Residence. "This partnership gives Marines who have graduated from the USMC Command and Staff College the opportunity to expand how they think about the character of modern war. American University students will benefit as well from the perspective USMC students bring given their diverse experiences in crisis response and humanitarian assistance and disaster relief."
SIS will grant six credits of advanced standing to CDET graduates to use towards a Master of International Service (MIS) degree, an executive-level graduate program offered online or on campus in Washington, D.C. In addition, CDET graduates will qualify for a $5,000 scholarship upon enrollment in the executive MIS program designed to help students broaden their knowledge, enhance their intellectual development, expand their professional effectiveness, and strengthen their international leadership skills and knowledge.
This partnership is the first between CDET and an Association of Professional Schools of International Affairs (APSIA) school, further extending a long tradition of public service and community involvement.
The online executive MIS program features weekly real-time classes taught by SIS faculty, dynamic course content including video case studies, and interactive group assignments that allow students to pursue their degrees from anywhere in the world. The program is also offered in residence on American University's campus in Washington, D.C. for those who live and work in the nation's capital.
Prospective students are not required to take the GRE examination for MIS program enrollment. For more information about the Executive MIS program, visit
www.american.edu/sis/mis/usmc.
About SIS
American University's School of International Service (SIS) is a top-10 school of international affairs located in Washington, D.C. Since our founding in 1957, we have answered President Dwight D. Eisenhower's call to prepare students of international affairs to "wage peace." We do so because we believe the world needs leaders willing to serve.
SIS produces transformational research and prepares more than 3,000 graduate and undergraduate students for global service in government, nonprofits, and business. Our students learn from 125 full-time faculty, and benefit from an active international network of more than 15,000 alumni. They graduate prepared to combine theory and practice and to serve the global community as emerging leaders who understand that service is not a moment; it's a mindset.