Arts
International Art and the U.S. Immigrant Experience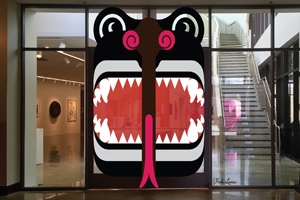 Summer exhibits at the American University Museum at the Katzen Arts Center are open June 18 through Aug. 14.

Does art exist in North Korea? For many, this has been an open question. Contemporary North Korean Art: The Evolution of Socialist Realism, the first exhibit of its kind in the United States, seeks to broaden understanding of North Korean art beyond stereotypes of propaganda and kitsch to show sophisticated and nuanced expressive achievements. It investigates previously unrevealed evidence of North Korean artistic experimentation, and the nation's particular evolution of Socialist Realism within its own culturally homogeneous context.
Special focus is given to the development of Chosonhwa, North Korea's predominant painting medium that is revered as the nation's most refined. Chosonhwa is traditional Oriental ink-and-brush painting on rice paper that absorbed Socialist Realism influences in the 1950s and has since progressed to become its own distinct art form. While working within prescribed thematic bounds, artists often succeed in conveying profound human emotion. On view will be important Chosonhwa works from the 1960s through the present.

Over the past five years, Curator and Georgetown University Professor BG Muhn made numerous study trips to Pyongyang. His research has been on-site and first-hand, with unprecedented access to the original works and their artists.
Muhn says: "I visited many art studios, including Mansudae Art Studio, the largest state-run art studio in the world, and interviewed numerous artists and art historians. It has been an awakening experience to explore the heart of North Korea's ever-evolving Chosonhwa, the only variety of Socialist Realism that remains in active production today."
Coinciding with the exhibition of North Korean art, Examining Life Through Social Realities documents and examines life and the social realities of people living on the Korean peninsula through the Realist paintings of 10 South Korean contemporary artists. As explained by exhibition curator GimChoe Eun-yeong, definitions of Realism have changed over time, but the Realism of South Korea closely approximates 19th-century French Realist painter Gustave Courbet's use of the term: to manifest artists' perspectives of the world through expressive techniques and methods.
During the slave trade, ten times more Africans were brought in bondage into Brazil than into the United States, and Northeast Brazil has the largest population of those of African descent outside Africa. Bandits & Heroes, Poets & Saints: Popular Art of the Northeast of Brazil explores how the ancient cultures of Africa blended with indigenous and colonial Portuguese traditions to form the vibrant and complex cultural mosaic of modern Brazil. Photographs and works of popular art, including sculptures, paintings, prints, religious objects, toys, and booklets of poetry will draw visitors into the complex and vibrant culture of the Northeast of Brazil and introduce the festivals, heroes, and spiritual traditions that give shape and meaning to the daily lives of the Nordestinos, common people of Brazil's Northeast.

This exhibition has been made possible through NEH on the Road, a special initiative of the National Endowment for the Humanities. It is brought to you by Mid-America Arts Alliance. Bandits & Heroes, Poets & Saints: Popular Art of the Northeast of Brazil was organized by Con/Vida–Popular Arts of the Charles H. Wright Museum of African American History, Detroit, MI. Curated by Marion E. Jackson, Ph.D. and Barbara Cervenka, O.P., Curators, Con/Vida–Popular Arts of the Americas.

The Alper Initiative for Washington Art presents The Looking Glass: Artist Immigrants of Washington, featuring the work of 10 artists who left Latin America for many different reasons over the last 60 years –primarily for safety, freedom, and opportunity–and made their homes, and their artistic careers and contributions, in the Washington region. They include Joan Belmar and Juan Downey from Chile, Carolina Mayorga from Colombia, Ric Garcia, Lenny Campello, and Jose Ignacio Bermudez from Cuba, Muriel Hasbun from El Salvador, Frida Larios from Honduras, Irene Clouthier from Mexico, and Naul Ojeda from Uruguay. They brought with them artistic traditions that took root and bore fruit here in the United States.

ART CART: HONORING THE LEGACY ties together two cities—Washington, D.C. and New York City—in an inter-generational, inter-disciplinary project. The exhibition includes painting, photography, printmaking, sculpture, mixed media and installation by ART CART artists that highlight turning points in the artists' lives and careers, including the Civil Rights and Women's Movements. Eight D.C.-based professional visual artists aged 62 and older are matched with students in art, healthcare, and aging disciplines to document and preserve their artistic legacy. The artists are: Alonzo Davis, Cheryl Edwards, Annette Fortt, Cianne Fragione, Pauline Jakobsberg, E.J. Montgomery, Annette Polan, and Terry Svat. The exhibition is curated by Pamela Lawton and Adjoa Burrowes and sponsored by the Research Center for Arts and Culture at the Actors Fund.