Television & Film
Mixed: Documentary to Explore Interracial Families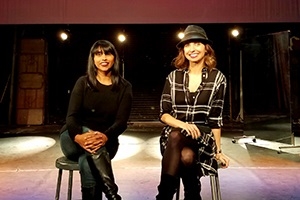 It took a while for documentary filmmakers Leena Jayaswal and Caty Borum Chattoo to realize that they were part of their own story. They're both in interracial marriages with biracial children, and that's the subject of their upcoming film, Mixed.
"Everybody kept telling us this film is about the two of you. And we said, 'No, it's not.' But then somebody would say, 'Why are you making this film?'" Jayaswal recalls.
The documentary is a travelogue—talking with people in Atlanta, Cleveland, Houston, and Los Angeles, among other places—but Jayaswal and Borum Chattoo are inextricably linked to the subject matter at hand.
"It's a journey film about the two of us finding mixed-race stories across America," says Jayaswal, an associate professor at American University's School of Communication.
Throughout the process, they've discovered so much more about their country—and themselves. "We actually had all these questions. How does mixed-race identity develop? So we talked to a psychologist about that. What's the media representation? So we talked to a bunch of Hollywood people. So we're finding those answers," says Borum Chattoo, an executive in residence at SOC.
Origin Stories
Jayaswal and Borum Chattoo had been grappling with these race-related issues for years.
During an afternoon lunch or a leisurely stroll in the park, Jayaswal suffered a few indignities. As an Indian-American woman, her young son's white skin caused strangers to make, well, strange assumptions.
"Somebody came up to me and said, 'Oh, you're so good with him. Who do you work for?''' Jayaswal recalls.
Of course, Jayaswal is married to a blond-haired, blue-eyed Caucasian man, and this was her birth son. That experience led to her installation project about identity, appropriately titled "I'm Not the Nanny."
At the time, Jayaswal only knew her SOC colleague Borum Chattoo casually. Yet when Borum Chattoo—a white woman married to a black man—saw the "I'm Not the Nanny" project, she felt an immediate connection. Borum Chattoo's children also bore limited resemblance to their mother, and one day Borum Chattoo randomly showed a picture of her brown-skinned children to Jayaswal. The two started talking, and the Mixed film project was born.
In some ways, this documentary is about their children's future. It's part love letter to them, and part exploration of the fast-growing biracial demographic.
"We fetishize mixed-race beauty. We have Alicia Keys! We have Misty Copeland! That's fine," Borum Chattoo says. "But that's not the same thing as seeing a whole person."
Guess Who's Coming to Dinner
Both of Jayaswal's parents were born in India. Surrounded by white people, they were initially the only immigrant family living in a small Ohio town near Akron. Years later, Jayaswal would meet her future husband in Baltimore, and her parents were completely supportive of her decision. Yet, with two of her sisters also in interracial relationships, some extended family members passed judgment on them partnering with non-Indians.
At one family party, Jayaswal overheard someone talking with her father. "He said, 'The only white people in the room are your children's partners.' And my dad looked at him and said, 'Well, what can I say? I'm an American dad,'" Jayaswal recounts. That story illustrated her parents' integrity, she notes, and her immediate family adores her husband.
A military brat, Borum Chattoo's family has roots in northern Florida. It's part of the Deep South, traditionally an area where racial mixing was not only taboo but potentially dangerous.
She viewed her family as open-minded, but when she started dating a black immigrant from Trinidad, she proceeded with caution. Before a formal introduction, she sent her parents a photograph of her new boyfriend.
"It was mostly so that when my family met him, they wouldn't embarrass him by being surprised," she explains. "Sending the photo was the right move, even though I was annoyed that I thought I should do that. But I did it for his comfort."
She'd hear through the grapevine about some extended family whisperings ("What is going to happen to their children?" etc.). But she was especially proud that her late grandfather—a man who grew up in de facto segregated communities—welcomed him with open arms.
"He loved my husband and went out of his way to be gracious," she says. "And I love that that's part of this story."
Cultural Barriers
For Mixed, the two professors interview interracial couples and mixed-race children. They recently did a film shoot with Blasian Narratives, an art performance group of African-American/Asian students from Spelman and Morehouse colleges in Atlanta.
They also examine how this issue is reflected in popular culture. In the 1990s, Borum Chattoo worked for legendary producer Norman Lear, a pioneer for integrating network television.
In Mixed, Lear details the experience of casting Tom and Helen—a white husband-black wife married couple—on the 1970s sitcom The Jeffersons. The network feared this depiction would be "explosive," but Lear forged ahead and made TV history.
They'll also include an interview with Borum Chattoo's friend Tim McKeon, co-creator of the popular PBS Kids show Odd Squad. Even with McKeon's desire to cast multiracial kids, casting agencies still bombarded him with white actors.
Loving Should Be Enough
Mixed is slated for release in 2017. June of that year will mark the 50th anniversary of the landmark Supreme Court case Loving v. Virginia, which struck down anti-miscegenation laws. The Virginia Historical Society is set to dedicate a marker in Caroline County, Va., home to Richard and Mildred Loving, and Jayaswal and Borum Chattoo are planning to film the event.
Even as legal restrictions fell by the wayside, the AU professors believe societal barriers facing interracial couples are still considerable.
"Loving v. Virginia was social change, but the normative shifts that need to happen can take a half century or even longer," says Borum Chattoo.
If you don't believe that, consider what's happened when corporate advertisers have used interracial families. Earlier this year, an Old Navy ad featuring a diverse family sparked racist remarks on Twitter. A 2013 Cheerios ad with an interracial family led to such racist vitriol that General Mills shuttered its YouTube comments section.
"Some folks will say to us, 'Why is there a need for this movie? I don't see race.' Well, you should see it," says Jayaswal. "We're not trying to erase the idea of race, we're just hitting it on the head and saying there are various forms of it."
Despite the ad controversies, many customers voiced strong support for Old Navy and General Mills. Now, as they're working to complete Mixed, Jayaswal and Borum Chattoo have been overwhelmed by the enthusiasm from mixed-race families.
"Aside from a few scheduling issues, we haven't had to convince anybody to participate," says Jayaswal. "Almost everybody comes back and wholeheartedly says, 'Yes, I want to be a part of this.'"