Achievements
Students Earn Fulbright, Truman Scholarships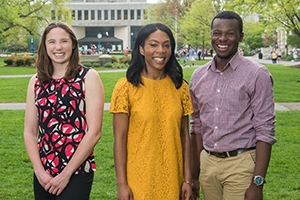 Three AU students—one senior who will soon graduate from the School of Communication (SOC) and two School of Public Affairs (SPA) juniors—are the recipients of Fulbright and Truman scholarships.
Fulbright Recipient Shannon Scovel
Shannon Scovel, a graduating SOC senior on AU's Swimming and Diving Team, plans to use her Fulbright award to pursue a master's degree in gender studies at the University of Stirling in Scotland.
Scovel completed a capstone on women in sports media and will build on that project while in the U.K. Her thesis will assess the representation of women in sports media during the 2008, 2012 and 2016 Olympics, comparing how the coverage of women has changed over the past 12 years.
Read more about Scovel's accomplishments and post-graduate plans.
Truman Recipient Lexi Ivers
After she graduates from AU, SPA junior Lexi Ivers, one of AU's two Truman recipients, has her heart set on attending Harvard Law School.
Specifically, Ivers wants to participate in Harvard Law's child welfare clinic so she can use the law to assist foster children.
Her decision is partly drawn from personal experience. "Adoption law literally transplanted me from poverty to a really incredible family," she says.
Read more about Ivers's accomplishments and post-graduate plans.
Truman Recipient Shyheim Snead
Shyheim Snead, also a Truman recipient and SPA junior, says his post-graduate plans are to earn his master's degree in public policy.
Snead, AU's student trustee and a Frederick Douglass Distinguished Scholar, grew up in Bridgeport, Conn., an area that has been beset by economic distress, crime, and struggling schools.
"Statistically, I'm not supposed to be sitting here," said Snead, who credits his success to his family and faith.
After earning his graduate degree, he is considering nonprofit work on urban poverty and educational access issues.
Read more about Snead's accomplishments and post-graduate plans.