Student Life
Good Night, Sleep Right Baby: Student's Nonprofit Helps Her Home City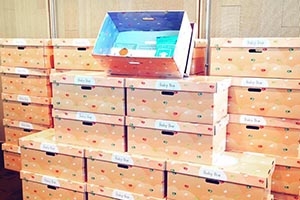 Many people toil in the working world for years before deciding to start their own company. Meena Nutbeam had the gumption to launch a nonprofit while she was still in high school. And her venture wasn't just about pursuing her own passions, but helping people in need.
She's now a rising junior at American University, and Stork & Company of Wisconsin is still going strong. As director and founder of the Milwaukee-based nonprofit, she's doing outreach and partnership-building activities from afar. When she's back in Wisconsin, she meets with associates and helps conduct deliveries of Stork & Company's primary product, baby boxes for safe sleep.
In addition, Nutbeam isn't afraid to delegate this work to people close to her own age. "I started this in high school, so I feel like I put a lot of trust in young people," says Nutbeam. "As long as they know the information that I give them, I think they're fully capable of doing the same kind of thing."
While some individuals speak of "giving back" after a successful career, Nutbeam didn't see any reason to wait.
From Helsinki to Milwaukee
Nutbeam got the idea for her company after reading a BBC article about the ubiquity of baby boxes in Finland. The Northern European country maintained a low infant mortality rate, while the rate in her hometown of Milwaukee has been much higher. About 15 percent of Milwaukee's infant deaths are related to unsafe sleep, she says, and there are significant infant mortality disparities between whites and African Americans.
"I was really concerned about safe sleep, because that seemed like something so obvious that everyone should be able to have," she says. "But this isn't something that's available to everyone."
In setting up Stork & Company, Nutbeam partnered with a baby box manufacturer and they began delivering baby boxes for free to mothers in the Milwaukee area. They've also added an education component, which includes information on prenatal and infant care, sleep and breastfeeding, and when to see a doctor.
Traditional baby cribs are expensive and bulky, which can be problematic for many low-income Americans in smaller living spaces. For mothers without cribs, some heath officials advise them to use dresser drawers or laundry baskets instead. But Nutbeam says that a dresser drawer will usually need blankets, a suffocation hazard for infants. Yet baby boxes—made of sturdy cardboard material with protective coating—offer a free, safe alternative. They're also easy to transport for working class mothers who may be forced to move often.
"We've had a lot of people from women's shelters say they really like the baby box, because if they need to get up and go and get out of there, they can take it with them," she explains.
Making it the Norm
Nutbeam says there are challenges in promoting the product. When people hear "babies sleeping in cardboard boxes," they occasionally express skepticism. But in emphasizing a track record of product safety, she notes that baby boxes have been used successfully in Finland for some 75 years. "We're trying to bring this into the community, and make it something that is the norm. It's normal in Finland, but it's definitely new here," she says.
Still, baby boxes are becoming more fashionable in upper middle class American households, and Stork & Company will provide them to people of any socioeconomic background. "Everyone can benefit from this, because in looking at income and ethnicity, we do see unsafe sleep deaths across the board," she adds.
The Holistic View
Nutbeam is a rising junior public health major in the College of Arts and Sciences. After she started working on the baby box nonprofit, she looked for programs with a public health major. AU not only had public health, but plenty of nearby internship and volunteer opportunities in Washington. During her first year at AU she worked for Life Pieces to Masterpieces, an afterschool program for young African-American boys in D.C. And she's been influenced by her AU classes, such as "Multicultural Health."
"Public health is a smaller program, so you get a lot of one-on-one time with your professors. And I feel like you learn a lot more that way than in a giant lecture hall of thousands of kids," she says.
Through her Milwaukee nonprofit work, she's taking a more holistic view of the health care system. For instance, the stress of living in cockroach-infested housing can affect birth outcomes, she says.
"I've already learned a lot more about different communities—and about the health problems that they face."