AU Student, Founder of 'The Muslim Project,' Receives Prestigious Social Change Fellowship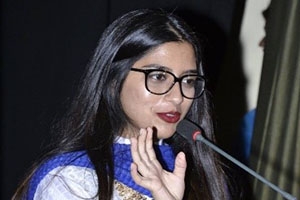 American University Class of 2019 student Ammarah Rehman has been named a 2018 Newman Civic Fellow. Fellows are announced each spring and begin the year-long fellowship the following academic year.

The Newman Civic Fellowship recognizes and supports community-committed students who have demonstrated an investment in finding solutions for challenges facing communities throughout the country.

Rehman caught the attention of Campus Compact, the organization that runs the fellowship program, courtesy of "The Muslim Project," a website she founded to combat stereotypes in mainstream media and society about Muslims.

"As a Muslim American, I always saw the Muslim community portrayed negatively in the media and felt responsible to end Islamophobia," Rehman wrote in her personal statement for the fellowship.

It was through American University's Center for Diversity and Inclusion that Rehman got the inspiration for 'The Muslim Project,' after facilitating a semester long dialogue that discussed how Islamophobia impacted people.

"My goal is to humanize people who practice Islam and mitigate the scourge of Islamophobia and bigotry through advocacy, policy, education, and interfaith dialogue," Rehman added.

American University President Sylvia M. Burwell also praised Rehman's dedication to service on and off the university campus. She described how Ammarah led an Alternative Break Trip and worked with several New Orleans schools to learn about class and privilege in New Orleans, an opportunity that found her teaching some of her fellow students as well as learning a great deal herself.

"Ammarah Rehman is deeply dedicated to civic engagement, and building bridges between communities," Burwell told Campus Compact. Ammarah has helped us grow and stay true to our Statement of Common Purpose, 'ideas into action and action into service.'"

Rehman is a junior in American University's School of International Service. She is also a member of the Islam Awareness Coalition, a campus organization which seeks to show the diversity in religious and cultural identities among Muslims in society.