Arts
AU Chosen to Receive Majority Share of Works from Corcoran Art Collection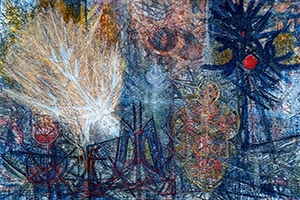 Under one of the largest free art distributions in U.S. history, American University Museum at the Katzen Arts Center, part of American University, has been offered nearly 9,000 works from the Corcoran Art Collection.  

"American University Museum is excited about the opportunities to share this rich collection with our students, scholars, the Washington community and beyond," said Jack Rasmussen, director and curator of AU Museum. "This collection will enhance the museum's longstanding commitment to exhibiting works by Washington, national and international artists who hail from diverse backgrounds and encompass many artistic styles and ranges."

The proposed acquisition will include paintings, works on paper, photographs, sculpture and textiles. Works by history's most masterful artists are represented including Pablo Picasso and Rembrandt. Other prominent artists include 16th-century Italian painter Titian, a contemporary of Michelangelo; German Renaissance painter and printmaker Albrecht Durer; American artists Winslow Homer, John Singer Sargent and Andy Warhol; 18th-century British portraitist Thomas Gainsborough; French Impressionist Charles Francois Daubigny; and American sculptor Louise Nevelson.  
Many other works are by both modern and contemporary Washington artists, including members of the Washington Color School and figurative artists Sarah Baker, Manon Cleary and Claudia DeMonte.

AU Museum, the largest university-affiliated art museum in the Washington metro area, is committed to displaying Washington art. A gift in 2014 from AU alumna and Washington artist Carolyn Alper established the Alper Initiative for Washington Art, which created dedicated space for the display of work by historical and contemporary Washington artists. Working in tandem with the Alper Initiative, Rasmussen focused on identifying and selecting artists significant to Washington art history.

"William Corcoran's dedication to presenting works by American artists led to his collecting an exceptional body of 19th-century art from Washington D.C., representing the simultaneously national and local identities of art in the emerging capital city," Rasmussen said.

In addition to 19th- and 20th-century American art, the proposed Corcoran gift would supplement the museum's collection of work by female artists and artists of color, in alignment with the legacy of the American University Art History department as a leader in feminist art history and the university's commitment to diversity and inclusion.

Finally, the AU Museum has been offered the bulk of the Corcoran's famous works on paper collection, where it would be preserved nearly in its entirety. AU Museum's willingness to maintain the integrity of important American collections, such as that of William A. Clark, Olga Hirshhorn and many others, will provide opportunities for scholarship and exhibition for years to come.

American University has invested in a new storage facility in AU's Spring Valley Building at 4801 Massachusetts Ave., NW, that would be home to the paintings, prints, and sculptures that would be utilized most often by the museum, complete with rolling racks and shelving. The university has upgraded its collections management software that would be able to accommodate the collection and would be working with the registrars at the National Gallery of Art to incorporate the data on the collection.

Next Steps
In support of this acquisition, American University has launched a funding initiative designed to update the museum's exhibition and storage space, to include a redesign of the second-floor galleries. Further investment will also include a study room for use by AU students, faculty, and visiting scholars; and staff capable of assessing and caring for the collection and enhancing public program offerings to share the collection with the world.

The Corcoran Gallery of Art, one of the first private museums in the United States, was established in 1869 and expanded in 1880 to include the Corcoran College of Art and Design. The Corcoran Gallery of Art has closed, and in 2014, the Corcoran transferred the college to George Washington University.