American University Names Christine Chin as New Dean for School of International Service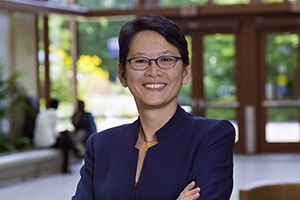 American University announced today the selection of Christine BN Chin, Ph.D., as the next dean of the School of International Service (SIS). Professor Chin is an internationally renowned and award-winning scholar of global migration studies, offering path-breaking scholarship on the intersections of gender, class, race/ethnicity and nationality. Her appointment is effective June 1.
"As a top scholar, a committed teacher, and an innovative leader, Christine is the right person to build on SIS's existing excellence and guide the school to new heights," said AU President Sylvia Burwell. "Our national search led us to the best person for this vital role at our top-ranked school of international affairs. As an AU alumna, Christine recognizes how special AU is and the enormous potential of this university."
Dr. Chin, the first woman to become dean of SIS, has called AU home for more than 20 years. When she was named interim dean, she said: "There's a lot to be proud of at SIS. I firmly believe the continued success of the school rests on four pillars: faculty, staff, students, and alumni. When all four are well and strong, nothing is impossible."
"Christine Chin has an excellent grasp of the changing landscape of higher education in international studies," Ken Conca, SIS professor and chair of the search committee, said. "She is deeply committed to diversity, inclusion, respect, and shared governance. She is uniquely positioned to tell the story of the school and its important role at this critical juncture in world affairs. Her core values-as reflected in her scholarship, teaching, record of service, and performance as interim dean-align very well with the type of leadership we seek."
Dr. Chin first came to SIS as a student (SIS/PhD '95) and joined the faculty in 1996. During her time at SIS, she has been an active scholar. Her most recent book, Cosmopolitan Sex Workers: Women and Migration in a Global City (2013) earned several book awards, including the Distinguished Book Award from the Political Economy of World-Systems Section of the American Sociological Association, and the Yale H. Ferguson Award from the International Studies Association-Northeast.
"Through the intensive search process, Professor Chin displayed essential qualities of leadership, management, insight, and a vision for the future of SIS," said AU Provost Scott Bass. "We look forward to the new era Dean Chin will bring to SIS."
Dr. Chin has served on numerous boards and committees at SIS and across the university, including strategic planning and budget committees, SIS's Faculty Action Committee, and director of the SIS International Communications program. She is on a one-year leave from her current position as executive director of the Center for Teaching, Research, and Learning (CTRL) to serve as Interim Dean of SIS.
"It is an immense privilege for me - as an alumna and long-standing faculty member - to serve as the next Dean of SIS," said Dr. Chin. "SIS was founded sixty years ago with the distinctive research-teaching mission of being dedicated to the service of humanity," she added. "I am deeply honored to lead a highly talented group of multidisciplinary faculty and staff who work on addressing major challenges of the 21st century while mentoring the next generation of leaders. Together, we will realize the global and local reach, potential and promise of our school."
Dr. Chin is also an award-winning teacher. She has received teaching awards at the school and university levels, as well as earning the American Political Science Association's Campus Teaching Award Recognition. As an educator committed to the ultimate ideals of high impact teaching and learning, she has worked very closely with the Office of Merit Awards to field numerous students for national and international merit competitions such as the Marshall, Fulbright, and Rhodes scholarships.
In recent years, Dr. Chin has served on multiple school and university-wide committees including the university's budget committee and the President's Council. She has been co-leading a special working group on the future of online education at AU and has involved SIS in innovative collaborations with Kogod School of Business and the Washington College of Law. While serving as interim dean during the 2017-18 academic year, she has been on leave from her position as executive director of AU's Center for Teaching, Research, and Learning (CTRL), and she served previously as director of SIS's International Communications program. She has a track record of steadfast commitment to diversity and inclusion at the institutional and individual levels.
Dr. Chin earned her Ph.D. at American University's School of International Service, her M.A. from University of California, Berkeley and her B.A. from Wellesley College.