Critically Acclaimed Filmmaker to Lead AU's Center for Environmental Filmmaking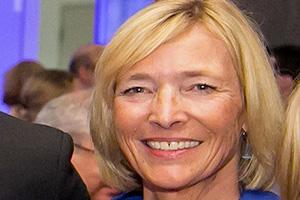 Critically acclaimed documentary filmmaker Maggie Burnette Stogner has been named executive director of American University's Center for Environmental Filmmaking (CEF), the university announced today. 
Stogner brings more than 30 years of documentary filmmaking experience to the role, including nine years at National Geographic TV and Film where she was Senior Producer of the award-winning weekly series EXPLORER. Twelve years ago, she launched Blue Bear Films, an international design and production company for documentary and immersive media. Her credits include broadcast and world-touring museum projects for the Smithsonian, PBS, National Geographic, LucasFilms, the Canadian Museum of Civilization, and many others. She is a judge for Best Natural History and Best Documentary Emmy Awards, Primetime Emmys, and CINE Golden Eagles, and an Executive Member of Women in Film and Video.
Under her leadership, Stogner will work to expand the Center for Environmental Filmmaking to emphasize the critical environmental issues of today and the need for diversity and inclusion every step of the way. 
"To have real impact, we need to inspire action across audiences," Stogner said. "The environment is everybody's issue and it is critical that we increase diversity both in front of and behind the camera."
For Stogner, environmental filmmaking is more than the making of the films, it is a means to connect different audiences in innovative ways with the most pressing issues of our time.
"We have an opportunity to educate students on how to tell powerful stories that are catalysts for engagement in critical environmental issues," she said. "Together, we will explore ground-breaking ways to reach audiences and pursue creative, multi-platform production that has heart, humanity, and impact."
The Center for Environmental Filmmaking is one of few centers of its kind in the world. Students learn from start to finish how to make environmental and wildlife films, digital shorts, AR/VR, game design, and other emerging media platforms. They have access to immersive filmmaking experiences such as "Classroom in the Wild" in locations from the Chesapeake Bay to Alaska. They gain valuable insights from special events, visiting filmmakers, guest speakers, and special programs. They experience making films with Maryland Public Television and through internships with, PBS, Frontline, the Smithsonian Channel, National Geographic, Discovery, the National Park, NOAH, NASA, the Nature Conservancy, World Wildlife Fund, and many other conservation organizations. 
Student funding is a priority and Stogner plans to aggressively expand the center's efforts in this area. "We offer a number of scholarships and stipends," Stogner said. "It is absolutely essential that all students can participate in our programs."
As the center expands under Stogner's leadership, she looks forward to strengthening alliances with the School of Communication's Investigative Reporting Workshop, the Center for Media and Social Impact, the Game Lab, Office of Sustainability, and others, as well as many external organizations.
"I look forward to pursuing a range of dynamic partnerships as we explore new, transformational ways to inspire, engage, and create impact," she added. "The clock is ticking on our planet and we have no time to lose."