School of Public Affairs at AU Jumps in National Ranking in U.S. News & World Report Survey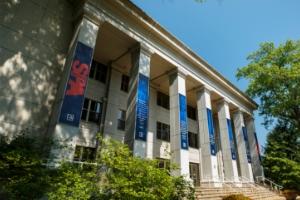 American University (AU) School of Public Affairs (SPA) continues to achieve national recognition as one of the country's top public affairs institutions by climbing four spots in its overall ranking to No. 14 among 285 schools of its kind, by U.S. News & World Report's 2020 Public Affairs Graduate Schools Rankings. SPA specialty rankings also improved across the board, climbing in three areas and receiving first-time recognition in four areas. 
Specialty area rankings include: #3 for Public Management and Leadership (up from #6), #14 for Nonprofit Management, #16 for Public Financing and Budgeting (up from #23), and #17 Public Policy Analysis (up from #24). Newly ranked specialty areas include: #5 International Global Policy & Administration, #14 Homeland Security & Emergency Management, #16 Local Government Management, and #15 Urban Planning and Policy. Only three other schools in the country have more specialty area rankings than SPA.
"All indicators point to SPA heading in an upward trajectory," said Vicky Wilkins, dean of AU School of Public Affairs. "I am particularly pleased to see our Public Management and Leadership specialty rise to No. 3—the highest SPA has ever been ranked. We plan to continue the momentum by recruiting top faculty, building strategic partnerships that will benefit our students, and expanding SPA's presence in our field."
Peer assessment surveys comprise the U.S. News & World Report rankings. Deans, directors, and department chairs representing 285 master's programs in public affairs and administration were surveyed in fall 2018. Respondents were asked to rate the academic quality of a master's program on a scale of marginal to outstanding. Rankings of specialty areas are based on ratings by educators at peer schools. 
Established in 1934, AU's School of Public Affairs was created to train public servants implementing FDR's pioneering New Deal legislation. For 85 years, SPA has married FDR's vision with the theoretical and practical skills public service professionals need. Today, with more than 2,300 current students and 23,000 alumni, SPA faculty and students continue to address challenges in the areas of public policy, public administration, political science, criminology, and other complex fields.