In the Community
Making an Impact: New Graduates Reveal Their Hopes for the Future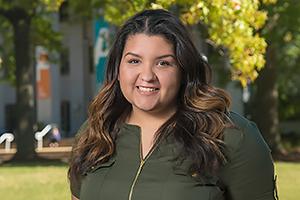 The 137th commencement at AU will graduate more than 2,500 students and welcome thousands of guests to Bender Arena on campus. Each ceremony will be livestreamed approximately 45 minutes prior to the individual start times.
Former Minority Leader of the Georgia House of Representatives and founder of Fair Fight Action, Stacey Abrams, will deliver the university's first address for the 137th commencement ceremonies at 9 a.m. on Saturday, May 11.
Valentina Fernández, born in Venezuela and raised in Poinciana, Fla., will graduate from the School of Public Affairs with a bachelor's degree in political science and a minor in education studies. In her teens she considered a career in music and attended Osceola County School for the Arts. Then, a book by Sen. Elizabeth Warren (D-Mass.) inspired her to consider political work and to attend college in the nation's capital.
During her time at AU, Valentina interned with D.C. Public Schools. She has co-developed a 60-hour civics curriculum for middle- school students in D.C., helped produce MTV Logo's 2015 "Top 25 LGBT Trailblazer Companies" report, and has observed policymaking first-hand as a United States Senate Intern. Valentina is a 2017-2018 Public Policy and International Affairs Fellow and completed a Junior Summer Institute at Carnegie Mellon.
On campus, Valentina served as the Student Trustee on AU's Board of Trustees, becoming the first LatinX person to serve in that role. She also served as the undergraduate member of AU President Sylvia M. Burwell's strategic planning committee, and currently is the Student Government President. She also has held the roles of Vice President of AU College Democrats, Constitutional Law Teaching Assistant, EmpowerAU facilitator, Orientation Leader, and Resident Assistant.
"Having attended Title I Florida Public Schools after arriving to the U.S. from Venezuela, I can't think of a career that does not involve improving our nation's deeply broken education system," said Fernández of her career inspiration. "I did not learn about the idea of college until my junior year in high school and I am interested in pursuing a career that will help to advance access to higher education from a K-12 policy perspective. I am most excited about working with a student population similar to the backgrounds and experiences I had as a student, and then to carry my classroom experiences into solving complex problems at the state and federal level."
Speaking about her hopes for the political future of the United States, Valentina said, "Our world's problems are interconnected, and I hope the political future of America is able to create more nuanced discussions around issues while also centering underrepresented communities in an intentional manner." In 2017, while at AU, Fernández traveled to Tampa, Florida, for the naturalization ceremony at which she became a U.S. citizen.
Jozette Allah-Mensah of Germantown, Maryland, will graduate with a bachelor's degree in journalism with a minor in marketing from the School of Communication. During her time at AU, she honed her professional skills with marketing positions at Points of Light, the WishDish, Precision Strategies, National Geographic and the Democratic National Committee. "It is so amazing to see how little moments become semesters and semesters become years," she says. "From my first day working on campus, to studying abroad in Greece, to completing internship after internship. It's unreal to see how growing roots at AU and in DC prepares you for the next step, and I am so grateful to have had a community of support."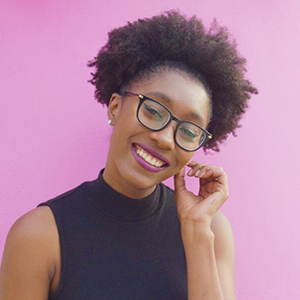 Jenna Caldwell of Elizabeth, New Jersey, is co-president and co-editor-in-chief of The Blackprint, a publication founded by the American University Association of Black Journalists. Jenna will graduate with a bachelor's degree in international studies.
When she was in high school she saw a commercial that posed a question: What can you contribute to the world? Her decision to come to AU's School of International Service was fueled by that question. Her work at The Blackprint helped her find the answer. Jenna plans to pursue a career in journalism.
"I've turned a total 180 degrees," says Caldwell. "I know now that it's the path I want to go down. My hope for the future is to use the knowledge of the world that I acquired at the School of International Service and my journalistic skills to elevate the voices of people who may not otherwise be heard. I also hope to have the opportunity to write about and document the experiences of the black diaspora."
Jenna has been interning at NBC's Meet the Press and her next stop is Columbia University Graduate School of Journalism, which she is starting in the fall.
American University Washington College of Law student Stephanie M. Daigle will not only receive her Juris Doctor this May, but will also graduate with a master's degree in international affairs from the School of International Service in December.
Daigle has been deeply involved in human rights work at AUWCL since moving from Conway, Arkansas to Washington, D.C. As a member of AUWCL's Kovler Project Against Torture, Daigle has conducted research and prepared briefings on treatment practices in countries signatory to the U.N. Convention Against Torture. "The Kovler Project is an amazing opportunity to see human rights law in action up close," she said. "To have the opportunity to shape human rights law conversations at the United Nations as a student is irreplaceable."
Daigle is also involved in AUWCL's Center for Human Rights and Humanitarian Law, the Lawyering Peace Program, and the International Refugee Assistance Project. This past summer, she interned full-time with the United Nations High Commissioner for Refugees in the District in the Resettlement Unit. This spring she participated in the D.C. Law Students in Court Clinic. Daigle was one of two AUWCL students to receive the 2018-19 Myers Law Scholarship, AUWCL's most prestigious donor award.
Laura Guillossou of Bethesda, Maryland, will graduate with a master's degree in accounting from the Kogod School of Business. She credits the Kogod faculty for investing in her success. She chose to pursue accounting because of career stability and a desire to give back through the profession. "I have always been interested in business as a means to have a stable life and explore different countries and cultures," she says. "I come from a multicultural background with my dad being from France and my mom from Madagascar. Business is also a means for a change. Accounting specifically interested me because of how it is combining technology and business as artificial intelligence and machine learning become more developed."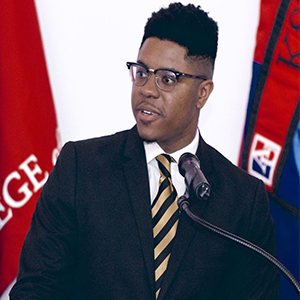 Othniel Harris of South River, New Jersey, will be graduating from the School of Public Affairs with a bachelor's degree in political science. He grew up as the youngest of four children, in a household where education was paramount. His parents -- both public school educators – continually stressed the importance of excelling in school.
It wasn't until 2007 that the candidacy of then-Sen. Barack Obama sparked his interest in politics. Throughout the Obama presidency, Othniel says, he oftentimes wished he got to be closer to all the action. When time came to choose a college, Othniel knew that Washington, D.C. was the place for him. "I wanted to intern on the Hill, work on campaigns, and also be challenged by students who are just as passionate about politics as I am," he recalled.
On campus, Othniel has taken on numerous leadership positions, including serving as vice president of the Black Student Union and as vice president of the Alpha Phi Alpha Fraternity, Incorporated, Nu Beta Chapter. This year he has been a member of the Student Advisory Council to the President's Council on Diversity & Inclusion.
Throughout his time in D.C., Othniel has worked on many service projects designed to aid the homeless. In addition to his passion for political science, he has a new enthusiasm for philosophy. After graduation, he plans to continue being active in politics by organizing communities of color to make their voices heard in the 2020 election. His ultimate hope is to serve in state government and to be elected governor of his home state of New Jersey.
Grace Ibrahim of Jordan will graduate with a master's degree in film and media arts. In addition to attending the School of Communication's L.A. Intensive, which gave her eight days of working with industry professionals in Hollywood, she also has experience working in photography, graphic design and public relations. A swimmer on Jordan's national team, Grace once again took to the water when she came to AU, competing on the university's swim team during her undergraduate studies. After making D.C. her home, she was forced to leave the country due to an immigration issue. During that two-year break, she discovered her passion for film, which led her back to the School of Communication.
"Once DC became home after four years, I experienced a denied visa due to not being an American citizen," she says. "My papers were sent into the government office one day late, and I had that same amount of time to pack up and leave DC and my life behind. I moved back to Jordan and spent two years figuring my stuff out. I realized my passion, which was film, and decided AU was the best place to come back and pick up where I left off."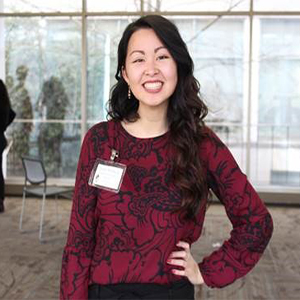 Annie Roebuck of Pittsburgh, Penn., will graduate from the School of International Service with a bachelor's degree in international studies with minors in communication and Spanish. Annie knew she wanted to study international affairs in the nation's capital. "I've discovered that it's important to understand the people behind issues, before tackling larger structural problems. In SIS, I've studied a wide range of global topics from the humanitarian crisis in Yemen to female empowerment in international education programs. While these issues may not appear directly linked, all have challenged me to see people and the world in a more complex light."
During her time in SIS, Annie conducted research as a member of the Olson Scholars Program and the SIS Honors Program. Annie spent her junior year abroad at the AU Center in Madrid. She is a recipient of the Creative Work in International Studies Award for her capstone project, American University, American Dreams, a podcast series about second-generation immigrant students and the American Dream. On campus, Annie served on the executive boards for She's the First, a non-profit that promotes female education in low-income countries, and Delta Phi Epsilon Professional Foreign Service Sorority. She interned at the United States Senate and the National Immigrant Women's Advocacy Project.
Annie says: "I hope to use the knowledge and skills that I've developed through my classes, study aboard experience, and internships to engage directly with people in the international community. Although it's impossible to solve all of the world's conflicts in a day or even a lifetime, I believe that greater global awareness is the first step in working toward progress. I hope to cultivate global awareness and empathy among those of different identities by using media storytelling to share issues of cross-cultural significance."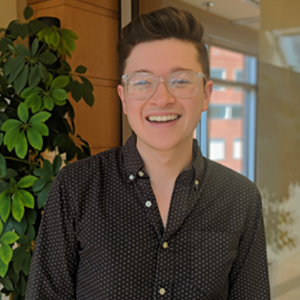 Steven Rossi of Mesa, Arizona will receive a bachelor's degree in business administration from the Kogod School of Business. He counts his time studying abroad in Spain as his biggest accomplishment during his tenure at the university. After graduating he'll cross the stage and walk into a job with IBM's federal consulting division. He'll bring with him the supportive community of friends he found at AU.
"My friends were paramount in allowing me to become who I am today," he says. "I am proud to say I have some of the most supportive, loving friends anyone could ask for. I knew no matter what I was going through, I would have people by my side."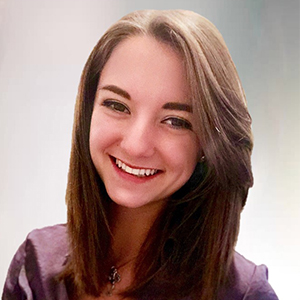 During her time at American University, Irena Volkov has excelled academically as a neuroscience student, designed her own personalized minor, launched a medical technology company, earned a spot in the Harvard-Amgen Scholars Program, led AU's neuroscience club, and served as captain of the university's equestrian team.
Volkov, of Alamo, Calif., is graduating with a bachelor's degree in neuroscience and a personalized minor in bioentrepreneurship. She has been accepted into the prestigious Medical Engineering and Medical Physics Ph.D. program, a joint venture between the Massachusetts Institute of Technology and Harvard Medical School. While at AU, Volkov established her own LLC, Surgicure Technologies, through the AU Incubator and in collaboration with the U.S. Army Medical Research and Materiel Command. Surgicure Technologies launched a bite block and medical tube securing device, which was patented. It ensures that airways remain open during surgical procedures or healing processes without causing damage to fragile skin or teeth. The device will be developed via a scanning software to 3D-print custom-fit devices for patients.
Irena feels grateful for her time at American University. "My accomplishments mean little to me without the help and support of my advisors, professors, and classmates who have continuously encouraged me to push my boundaries and be the best version of myself, no matter how outlandish my goals may have seemed at the time," she said.