Arts
AU Museum Early Fall Exhibits First exhibit of art from Corcoran Legacy Collection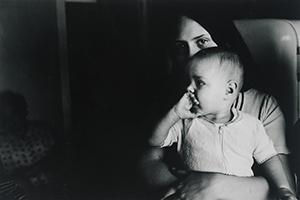 Early fall shows at the American University Museum at the Katzen Arts Center are open Sept. 3. Opening Reception: 6 to 9 p.m., Sept. 7. Free and open to all.
Moves Like Walter: New Curators Open the Corcoran Legacy Collection contains select paintings and photographs from the collection of 9,000 artworks the AU Museum received as a gift from the Corcoran Gallery of Art. Following the closure of the Corcoran, more than 19,456 works from the collection were distributed to museums and institutions in Washington, D.C. This is the first in-depth exhibition at AU Museum of work from the collection.
The exhibition is inspired by Walter Hopps, briefly the director of the Corcoran and an American curator of contemporary art. The students divided their curations into five sub-groups, Boundless: Existing Within Ambiguous Space, The Road Home, The Selfless Spirit: Nature vs. Nurture and the Effects of Motherhood in the Corcoran Collection, American Legacy: Reconsidering Non-Western Subjects in the Corcoran Collection, and Redefining the Gaze: Shifting the Power.
Curated and conceived by graduate students in art history, arts management, and studio art, the exhibition is a playful and provocative interpretation of the gift, exploring themes such as race, gender and power. Students focused on the provocative idea that the Corcoran Legacy Collection reflects beliefs and values of late 19th- and 20th-century America. The show features work by women and artists of color and includes work by Joan Cassis, Alan Feltus, George Peter Alexander Healy, Carroll Sockwell, Edmund Charles Tarbell, William Tolliver and Arthur Tress. Gallery Talk: 7-8 p.m., Sept. 28. Please RSVP at: tinyurl.com/aumuseumkatzen. Exhibition closes Dec. 15.
Grace Hartigan and Helene Herzbrun: Reframing Abstract Expressionism features painting by Grace Hartigan (1922-2008) and Helene Herzbrun (1922-1984), painters of the second Abstract Expressionist generation, who lived and worked as influential artists and teachers in the Baltimore/Washington, D.C. region for many decades. Although they began their careers as gestural abstractionists, both went on to reinvent and revitalize the signature styles of the Ab-Ex movement in powerful and personal ways. They were enabled to do so in large part by their self-selected, "outside-of-New York" locale, which permitted each of these very different artists to develop her own dialogue with painting, away from the shifting fashions and pressures of the commercial mainstream.
Accompanied by a fully illustrated catalogue, with an essay by curator and AU Art History Emerita Prof. Norma Broude, this show brings together more than two dozen large-scale and rarely seen works by Hartigan and Herzbrun from private and public collections, many in the Baltimore/Washington area. Both Hartigan and Herzbrun belonged to a generation of women artists who came to professional prominence during the years between World War II and the emergence of the second wave of the women's movement, what Broude refers to as "A Generation In Between." Both rejected the "woman artist" label and self-consciously side-stepped the emerging feminist politics of their era. But as Broude points out in her catalogue essay, "their art nevertheless diverged in significant ways from the now infamously macho esthetic of their Ab-Ex progenitors." Exhibition closes Oct. 20.    
Topographies of Life: Pam Rogers, Lynn Sures, Mel Watkin is curated by Jennifer Riddell and presented by the AU Museum Project Space. Using the medium of drawing to varied and distinctive effect, Rogers, Sures, and Watkin trace human connections to the natural world—across time and varied landscapes. The three artists work from both a consciousness of drawing's ties to illustration and evidence; and, the medium's unique ability to transmit the artist's "hand" and personal response to their subject. From the deserts of Kenya, forests of the Midwest, to the Potomac watershed, these artists are deeply attuned to the mutually affecting relationship between the anthropological and natural worlds. Gallery Talk: 5-6 p.m., Sept. 7. Please RSVP at: tinyurl.com/aumuseumkatzen. Exhibition closes Dec. 15.
Prints & Artists: WD Printmaking Workshop 1970-Present traces the evolution of the D.C.-based WD Printmaking Workshop, which began with Percy and Alice Martin's opening their Adams Morgan home as a collaborative artists' studio 50 years ago. The aim was to create a place where all artists (not necessarily trained in printmaking) could come together to explore the printmaking craft and create original prints. Emphasis was placed on experimentation and innovation. The studio was open to the artists 24 hours a day. The exhibition is a survey of prints of traditional etchings, lithographs, and more. The work showcases a fusion of traditional and contemporary printmaking techniques, such as today's use of computer-generated plates printed using traditional intaglio techniques. Presented by the Alper Initiative for Washington Art and curated by members of the WD Workshop. This exhibition features both historical and recent work by members of the workshop: Cabada, Frank Carmelitano, Allen "Big Al" Carter, Noche Crist, Jarvis Grant, Bill Harris, Winston Kennedy, Alice Marshall Martin, Mark Montgomery, Christopher Martin, Percy Martin, Michael B. Platt and Carol A. Beane, Richard Powell, Gail Shaw-Clemons, George H. Smith-Shomari, Dwight Tyler, Kofi Tyus, Victoria Saenz Vogl, Joyce Wellman, Duane Winfield, and Falaka Armide Yimer. Gallery Talk: 5:30-7 p.m., September 26. Please RSVP at: tinyurl.com/AlperTickets. Exhibition closes Oct. 20.  
Our World Above: Monoprints and Glass by Annette Lerner was inspired by images taken through the Hubble Telescope. Their indescribable beauty astounded Lerner and drove her to try to capture space in the monoprint medium. Also inspired by the desert sky in Southern California, Lerner has dedicated herself to capturing the clouds, the moon, and the sunsets. This will be Lerner's first exhibition in Washington, D.C. Exhibition closes Oct. 20.
CONTINUING SEPTEMBER 3-OCTOBER 20
There is a mystery in the act of burying and even more so in uncovering. Maia Cruz Palileo's paintings and drawings are the metaphorical teeth in this body of work spanning from 2013 to 2019. These works, including a small painting titled Burying Teeth, depict historical narratives from the colonial past of the Philippines, Maia's country of origin, as well as stories and moments about her own life as a Filipina American growing up in the United States. Her paintings and drawings replicate figures from old family photographs, as well as photos from the American government's archives depicting anthropological documentation of Filipinos during the American colonization. While her work evokes nostalgia and romanticism, it is imbued with a critical undertone of America's colonization of the Philippines. Maia's work is an honest perspective of the Filipino diasporic psyche from both a personal and political angle. Curated by Isabel Manalo.